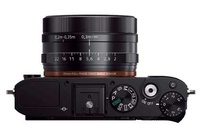 After reading the review of the Sony RX1 full frame compact camera, I have even a further admiration for what Sony engineers have accomplished.
Aside from its outstanding image quality and depth of field control, the fit and finish of this camera achieves world class status, "...the feel of the controls is among the finest that I have ever encountered on any camera. Only an M Leica is comparable. Every knob, switch and dial on the RX1 is solid, has firm detents, and overall the whole camera feels like it would survive reentry from orbit, or at least six months in a pannier on a round-the-world bicycle trip." (Luminous Landscape review)
Quite frankly, if I owned the Sony RX1, I would shoot with it, and often. In fact, I would go as far to say, that if I were to invest in another full frame camera, the RX1 would get serious consideration.
Warning: This review could cost you $2,800...