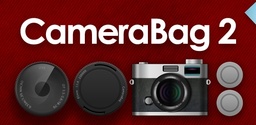 The Mac App Store has released its Best of 2012 list with five entries in the Photo category. Leading the way is CameraBag 2, which is runner up for App of the Year (behind Day One).
"Redesigned from the ground up, CameraBag 2's Analog Engine pairs a full suite of photographic tools with the high quality filters and vintage simulations we're known for. Its key innovation is a stunningly straightforward approach to layering, rearranging, and endlessly tweaking all of these effects in realtime. The 100+ fully-adjustable filters and 25+ professional controls CameraBag 2 ships with are only the beginning, forming the palette from which you can find, and create, your own styles." CameraBag is available for $14.99.
Four other notable photography mentions included Snapheal and Adobe Photoshop Lightroom 4, which now features Retina Display support in the Develop module. Rounding out the list of top photo apps were Snapseed for the Desktop and Diptic.
Even though I listed URLs here for the software, I recommend that you purchase through the Mac App Store where updates are handled quite elegantly.
Congratulations to each of these excellent imaging applications for their recognition on the Mac platform.
---