This is The Digital Story Podcast #874, Dec. 20, 2022. Today's theme is "What's It Going to Be in 2023?" I'm Derrick Story.
Opening Monologue
Just when I thought I had everything dialed in, 2022 happened. The enclosure for my backup RAID died, Capture One took another step toward a subscription model, and I was banned from Twitter. This seems like a good time to take a step back and reexamine my entire photography ecosystem. And if you're interested in doing the same, listen on. I hope you enjoy the show.
Digital Photography Podcast 874
Tune-In Via Your Favorite Podcast App!

---

Apple Podcasts -- Spotify Podcasts -- Stitcher

Podbean Podcasts -- Podbay FM -- Tune In
What's It Going to Be in 2023?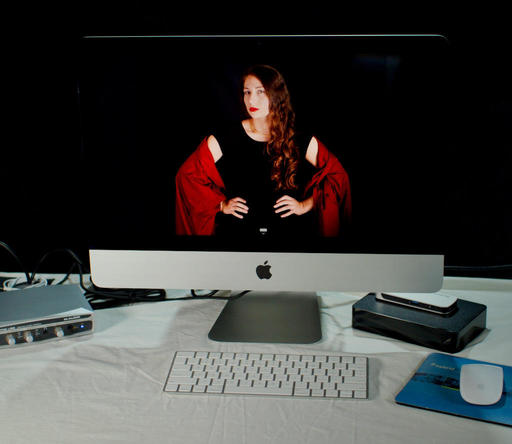 As I'm planning for the new year that's right around the corner, I thought I'd start with a pros and cons list - what are the aspects of my workflow that are in good shape, and what are the areas that need attention.
I'm dividing my workflow into five areas: Capture, Organization, Processing, Backup, and Sharing.
Pros and Cons
Capture - Good Shape - OM System OM-1, Fujifilm X100V, and Pentax KP. Will see what the iPhone 15 looks like in the Fall.
Organization and Processing - OK for 2023, but not sure beyond - Have a perpetual license for Capture One Pro 23, so I don't have to make any decisions right now. But will be watching this landscape closely because a change might be in the works for 2024 depending on what everyone does. Photos for macOS Ventura is fantastic for my mobile photography work.
Backup - Flirting with Danger - My Drobos are aging and not supported by macOS Ventura and my RAID enclosure died. I do have Dropbox and the 1TB iCloud plan, so I'm not totally screwed. But need to shore this up in 2023
Sharing - Moving Away from Social - The Twitter permanent suspension was a real eye-opener. I had been using Twitter for daily photography updates to the TDS site via a sweet little API. That's gone now, and we're trying to figure out a new solution.
I could go to Facebook, but not a real fan of that platform beyond what we already use it for. And Instagram seems pretty volatile. I'm looking at Mastodon and Tumblr, but not really sure about any of them.
In the meantime, I'm going to put energy into our Nimble Photographer newsletter on Substack, maintain our The Digital Story Facebook page, and keep an eye peeled.
Bottom Line - I definitely have some things to work out this year? Will keep you posted as I navigate through them. But clearly, there's work to be done in 2023.
What Are the Best Alternatives to the Adobe Photographer Plan?
You can read the entire article on FStoppers.com.
Adobe ruled the waves for image processing. However, evermore people are jumping that ship in favor of alternative methods. Most have similar functions, and each has its advantages and disadvantages. If you are thinking about changing, here are some alternative combined digital asset management, photo development, and editing options.
This article is a brief introduction to the various programs out there. When choosing what you need, there is a balance to be achieved between cost and functionality. All these packages include DAM (digital asset management) and raw development. Not all include advanced image editing, although most raw developers have some degree of local adjustments and simple tools like spot removal and graduated filters. Some features are common to many programs, but not all: HDR processing, panorama stitching, focus stacking, sky replacement, watermarking, and time-lapse creation. Some come with integrated AI-based noise control and sharpening. Others rely on external plugins to do those functions.
I am also writing this for desktop (or laptop) editors. Consequently, I only concentrate on computer-based programs and not comparing the cloud services that some offer, nor the phone and tablet apps.
I'll mention the unique selling points of each, but this isn't an in-depth review. If you want a DAM program, they all work. If you want raw development, then they all do that too. Some allow advanced image editing, while others require you to open a different program. The workflow of each is unique too. Therefore, making direct comparisons is difficult.
Adobe Made $17.61 Billion in 2022, $10.46 Billion on Creative Cloud Alone
You can read the entire article on PetaPixel.com.
Adobe's Fiscal Year 2022 earnings have been released and the company achieved a record revenue of $17.61 billion, which represents a 15% year-over-year (YoY) growth. Creative Cloud revenue grew to 10.46 billion on its own.
The financial results for the Silicon Valley-based software company are, in a word, impressive. Adobe achieved revenue of $4.53 billion in its fourth quarter (Q4) of fiscal year 2022, which represents a 10% year-over-year growth. Additionally, record cash flows from operations were $2.33 billion, and the Digital Media segment -- the part of the business that contains all of Adobe's creative applications -- pulled a revenue of $3.30 billion or 14% YoY growth.
Creative Cloud alone represented $2.68 billion in revenue in Q4, representing 13% YoY growth that continues to show that Adobe's choice to switch from a model of annual perpetual software releases to subscriptions has been a massive boon for the company's profits.
Adobe's annual numbers are staggering. The Digital Media segment saw revenue of $12.84 billion, which represents 11 percent year-over-year growth. Within that, Creative Cloud revenue grew to $10.46 billion, representing 10 percent year-over-year growth. Both the Document Cloud and Digital Experience segments also saw double-digit YoY growth, highlighting a set of multiple divisions that saw monumental profits in 2022.
Looking at just the revenue for Adobe Creative Cloud, it's no wonder that Capture One is strongly pushing to shift its business model to subscriptions. Adobe has seen wild, incredible growth basically every year since it did away with the Creative Suite and moved to the Creative Cloud, and any business in this segment is obviously going to look at Adobe's strategy in order to remain competitive.
Photographers can ask for perpetual software until they're blue in the face, but no company is going to turn down this kind of revenue.
The 2023 TDS Photography Workshop Lineup
Inkjet Printing Workshop for Photographers Online Workshop - Nov/Dec 2022 and Nov/Dec 2023. SOLD OUT

Maximizing Your Micro Four Thirds Camera Online Workshop - Feb. 2023. SOLD OUT

Ultimate B&W Photography Online Workshop - April 2023. SOLD OUT

Pt. Reyes In-Person Photography Workshop - May 2023

Infrared Photography Online Workshop - July 2023

Sedona Arizona In-Person Photography Workshop - Oct. 2023. SOLD OUT

Wine Country in Autumn In-Person Photography Workshop - Nov. 2023
You can sign up for any of these events by visiting our Photography Workshops Page. Inner Circle Members receive a 10 percent discount on all events.
Just Released! Photos for macOS Ventura and iPhone Essential Training
With Photos for macOS, you can manage, enhance, and share photos in a variety of ways. It's evolved into a powerful, but easy to use imaging application. And it's free!
In this course, I take you on a detailed exploration of how to use Photos for both the Monterey and Ventura versions, plus tips for iOS as well.
I start with an exploration of the interface, then move into the new features. Noteworthy topics include how to remove duplicates from your library, different ways to use Live Text to transform your camera into a personal assistant, how to search for pictures by object type, copy images from messages to Photos, use Quick Notes with Photos, and automate common tasks with shortcuts and built-in Mac intelligence.
Also included are updates on some of the recent improvements to the importing process, with lots of useful tips for organizing and editing your pictures. (The editing tools are terrific!) Upon completing this course, you'll be working more effectively with Photos for macOS Monterey, Ventura, and iOS.
If you use a Mac and haven't explored Photos for a while, I think you'll be surprised by its power. Take a look for yourself by visiting Photos for macOS Ventura and iPhone Essential Training.
Virtual Camera Club News
The Nimble Photographer Newsletter is now publishing every Thursday. Readers will enjoy a variety of content spanning from short photo essays, to commentary on weekly events, to reviews of the latest and coolest photo gear.
Inner Circle Members: A big thanks to those who support our podcast and our efforts! We are having a blast at our new Inner Circle hangout, the private group I've set up at DerrickStoryOnline. We'd love it if you join us. You can become an Inner Circle Member by signing up at our Patreon site. You will automatically be added to the new hangout.
My Writing on Medium.com: I now have 51 published articles on Medium.com. And if you haven't visited the site, and enjoy good writing on a variety of topics, I suggest that you may want to take a look. You can just go to the home page and enter "Derrick Story" in the search field. And if you like what you read, then follow me!
The New Donation Kit for Carefree Shipping of Found Film Cameras - If you've discovered a film camera that's no longer being used, our new Donation Kit makes it easy to pack and ship. Just visit the Contact Form on thenimblephotographer.com, click the box next to Donating a Film Camera, and let me know what you have. In your note, be sure to include your shipping address.
Affiliate Links - The links to some products in this podcast contain an affiliate code that credits The Digital Story for any purchases made from B&H Photo and Amazon via that click-through. Depending on the purchase, we may receive some financial compensation.
Red River Paper - And finally, be sure to visit our friends at Red River Paper for all of your inkjet supply needs.
See you next week!
You can share your thoughts at the TDS Facebook page, where I'll post this story for discussion.