This is The Digital Story Podcast #763, Nov. 3, 2020. Today's theme is "An Illuminating Look at Lighting." I'm Derrick Story.
Opening Monologue
How to adjust lighting for a person's face, whether it's yours or someone else's, is probably the single most important factor in determining success. In today's podcast, I'll cover techniques for both video and stills photography, to help us all present the best versions of one another. I hope you enjoy the show.
An Illuminating Look at Lighting
I think videoconferencing has prompted me to revisit a discussion about lighting. In a way, the last 6 months has been a tour de force in what not to do when lighting faces.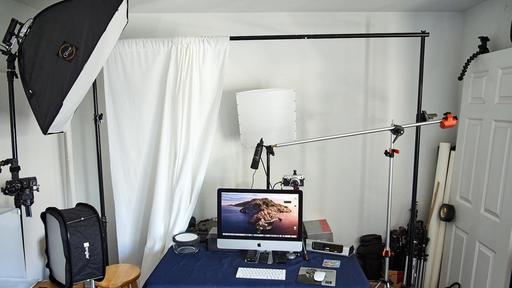 I've seen a lot of harsh backlighting, unflattering side lighting without fill, and lights with no diffusion what so ever. Since many of the same rules for lighting people for video apply to still photography as well, I thought this would be a good time to review 5 techniques for better portraits, both online and otherwise.
Side Lighting vs Front Lighting - Light from the side increases texture while light from the front smooths it.

The Size of the Light Source Matters - Why are cloudy days better for portraits than laser beam sunshine? Because the clouds create a large light source compared to a pinpoint sun.

Distance Matters as Well - As the saying goes, the larger the light source the closer to the subject, the more flattering the rendering.

If You Can't Avoid Backlighting, Compensate for It - Your two best options are via exposure compensation or fill lighting.

Good Lighting Technique Reduces Post Production Time - If you're someone that likes to get it right in the camera, then these portrait techniques will save you tons of time in post.
One of my favorite questions during portrait shoots is, "Do you retouch the pictures as well?" My response is a confident, "We won't need to do that, just you wait and see." The subjects would be amazed at how good the pictures looked on the back of the camera. And the reason for that? Good lighting technique.
The Most Stress-Free and Straightforward Place to Sell Your Used Gear
You can read the entire article here on f-Stoppers.
Selling gear always makes me feel more nervous than buying it for some reason. It is also more of a hassle, not just because I have to pack and ship all the gear (that is generally unavoidable), but because I have to deal with things like increasing commission fees and the like. eBay has gotten ridiculous, in my opinion, as their final value fee now stands at 10%, meaning if I sell a lens for $2,000, $200 goes out the door to eBay. Sure, eBay should get some kind of commission, whether that is a flat fee or a percentage, but I personally feel that 10% is quite exorbitant for the service provided.
So, I started looking for alternative places to sell gear. There are a lot of dedicated groups for this sort of thing on Facebook, some particularly large. The one thing eBay always had going for it that Facebook does not, however, is a robust feedback system. This made it a bit easier to trust the process of selling to strangers, as I could immediately see if I was working with a trustworthy person.
So, what do I prefer? I use Fred Miranda's buy and sell forums. The site was founded in 2000 and features an extensive forum network, including a very active buy and sell forum. So, why do I like it over other options?
First, it is a buy and sell forum by photographers, for photographers. This means that as a buyer, you can find pretty much any bizarre, esoteric body or lens you want, along with the more standard fare, which is great for gear nerds and working professionals alike. And with hundreds of new posts a day, there is a steady flow of options. And thanks to the feedback system, it is easy to trust who you are dealing with. Sellers also generally do a good job of conservatively rating the quality of their gear so you know exactly what you are getting.
The best part, though, is the price. As I mentioned earlier, I left eBay because the commission fees had gotten out of control. Fred Miranda, on the other hand, does not charge any commissions for selling gear, only a flat fee to be a member of the buy and sell forum. The current price is $15 for 30 days, $29 for 3 months, $59 for a year, or $99 for two years, though you can buy things for free; only those who want to post items for sale need to pay for a membership. To me, it is easily worth what I save in commission fees alone, but the added bonuses of a robust community of professionals and dedicated amateurs looking to buy, sell, and trade equipment with other photographers make it, in my opinion, the most enjoyable and easy place to sell gear. I have personally never had a bad experience on the forum either as a buyer or a seller, and I have saved a lot of money by getting used gear I know I can trust when I need something.
The Essential Steps to Impressive Video Conferencing
If you want to learn more about looking and sounding great for your next online interaction, then I think you'll very much enjoy my online workshop, The Essential Steps to Impressive Video Conferencing.
This 1-hour deep dive focuses on the three major areas of successful online interaction: Audio, Video, and Environment. During the course, I walk you through a variety of techniques that range from using gear that you already have, to improving your chops through a few inexpensive purchases.
The course is available on our Nimble Photographer Workshop Page for $14.95.
I have tons of great tips and techniques waiting for you there. If you want to get serious about how you appear during online meetings, classes, interviews, and family interactions, then you definitely will want to watch this course.
This is what photos from a $6000 compact camera look like
You can read the entire article here on Digital Camera World.
After two years of waiting the Zeiss ZX1 compact camera is now available to pre-order. Costing $6,000 this camera with its fixed 35mm f/2 wide-angle lens justifies it high price tag with its designer looks, precision engineering, and its full-frame sensor. The camera also has a built-in Android computer operating system, which means it has Lightroom built in. But what do pictures taken with this luxury compact look like?
We have yet to get this camera for review, and we suspect that given the Zeiss ZX1 is only going on sale in Germany and the USA, that this unusual camera may be hard to find on sale when it actually goes on sale in November. But to give a taste of what this camera can do, Zeiss has handily provided sample images from three professional photographers who have been using the 37-megapixel Zeiss ZX1.
Featured are the images provided Swedish photographer Hans Strand, Hungarian born Csaba Desvari, and LA-based music shooter Greg Watermann
Updates and Such
The Online Eastern Sierra Photography Workshop Begins Its Second Week
Our sold out Online Eastern Sierra Photography Workshop begins with its first assignment this week.
I've created a new space called DerrickStoryOnline to support our virtual and physical workshops. Those who signed up for the Eastern Sierra event will have permanent access to this growing community. Soon, I will announce our next event. If you want to be a part of this, keep your eye peeled.
Inner Circle Members: A big thanks to those who support our podcast and our efforts!
Affiliate Links - The links to some products in this podcast contain an affiliate code that credits The Digital Story for any purchases made from B&H Photo and Amazon via that click-through. Depending on the purchase, we may receive some financial compensation.
And finally, be sure to visit our friends at Red River Paper for all of your inkjet supply needs.
See you next week!
Product Links and Comments
There are product links in this article that contain affiliate tags. In some cases, depending on the product, The Digital Story may receive compensation if you purchase a product via one of those links. There is no additional cost to you.
You can share your thoughts at the TDS Facebook page, where I'll post this story for discussion.