This week on The Digital Story Photography Podcast: Free Surface Pro 3s at Adobe Max, PhotoPlus Expo Preview, Tethered Photography, 2015 TDS Photography Workshop Season - All of this and more on today's show with Derrick Story.
Story #1 - Adobe rolls out CC update with new desktop and mobile tools - Adobe has announced updates to several of its mobile and desktop software applications, just in time to kick off the company's Adobe Max conference. But Microsoft stole the spotlight giving out free Surface Pro 3s to the audience. What's going on here? I talk about it in the Weekly Update. (Source: DP Review).
In other news, Rent, love, keep: LensRentals launches try-before-you-buy program - Starting immediately, most of the lenses that LensRentals provides can be purchased outright if you decide you like them. (Only hard-to-source optics which the company couldn't easily replace in time for delivery to subsequent renters are excluded.) and better still, the rental fee you paid to try the lens in the first place can be put towards the cost of the lens, which will vary depending on the age of the individual item. (Source: Imaging-Resource.com).
And finally, Mark Your Calendars: The Next Blood Moon Will Take Place Wednesday, October 8th - For North American viewers, the lunar eclipse will begin shortly after midnight between October 7th and 8th; those in Australia and most of Eastern Asia will see it after sunset on the evening of October 8th. Unfortunately, those living in Europe and Africa will be missing out on this particular astronomical phenomenon. (Source: PetaPixel.com).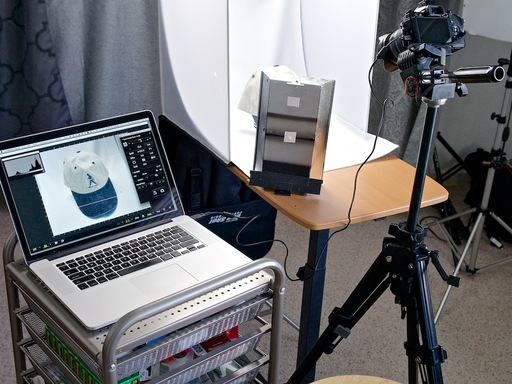 Story #2 - Tethered Photography - If you've never tried it, essentially you connect your camera to a computer, enabling you to fine tune the composition on a large HD screen instead of a tiny LCD. You can adjust settings, focus, and trip the shutter with controls on the laptop. The big advantage is that there are no surprises when it comes time to edit the photos. You can read more about tethered shooting here.
Story #3 - PhotoPlus Preview - One of the best US photography shows is right around the corner. PhotoPlus Expo at Javits Convention Center in New York opens its doors for conference sessions on Oct. 29, with the Expo kicking in the next day, Oct. 30th.
I'm going to be there, reporting for c't Digital Photography Magazine and speaking in their booth (#6 across from Epson and Nikon) on Thursday and Friday at 1pm, and Saturday at 12pm. Come by the booth for a visit, and I'll have a gift for you from Nimble Photographer Store. More about PhotoPlus in the third segment of today's show.
Story #4 - I've just announced the events for the 2015 TDS Workshop Season. Four enticing opportunities including stops in Bodie, San Francisco, and Sonoma County.
Virtual Camera Club News
Photo Assignment for October 2014 is "Water".
Order Your SizzlPix Early
Order your SizzlPix early to get holiday shopping out of the way. You'll give the double whammy of your own great image that has special meaning to your recipient, combined with the delightful surprise they'll have, seeing the back of the SizzlPix, wondering, "what the heck is this?", then lifting it out of the box, flipping it over, and there it is, a spectacular SizzlPix -- like Retina Display for the wall -- all ready with hanger attached!
Just a Couple More Things
If you haven't done so already, please post a review for The Digital Story Podcast in iTunes.
BTW: If you're ordering through B&H or Amazon, please click on the respective ad tile under the Products header in the box half way down the 2nd column on thedigitalstory.com. That helps support the site.
Download the Show
In addition to subscribing in iTunes, you can also download the podcast file here (31 minutes). You can support this podcast by purchasing the TDS iPhone App for only $2.99 from the Apple App Store.
More Ways to Participate
Want to share photos and talk with other members in our virtual camera club? Check out our Flickr Public Group. And from those images, I choose the TDS Member Photo of the Day.
Podcast Sponsors
Red River Paper -- Keep up with the world of inkjet printing, and win free paper, by liking Red River Paper on Facebook.
SizzlPix! - High resolution output for your photography. You've never seen your imagery look so good. SizzlPix.com. SizzlPix! now is qualified for PayPal "Bill Me Later," No payments, No interest for up to 6 months, which means, have your SizzlPix! now, and pay nothing until January!
Want to Comment on this Post?
You can share your thoughts at the TDS Facebook page, where I'll post this story for discussion.