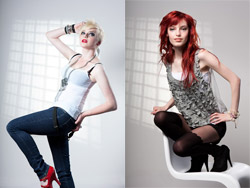 I found this article on DIY Photography that explains how pro shooter Richard Hill created a background projector for his studio photography using an old film camera. (Richard photographed the two portraits on this page using this technique. Be sure to check out his blog.)
I love this idea. Even though I have various backdrops in my portrait studio, I sometimes want to create something different on the spot. By printing out any sort of pattern on a transparency, I can project it on the wall and have an new look within minutes. Once you get the basic technique perfected, I'm sure the creative possibilities will soon follow. Thanks Richard!
---
The Digital Story on Facebook -- discussion, outstanding images from the TDS community, and inside information. Join our celebration of great photography!
---