Most portrait photographers, including Laya Gerlock (who'll I'll talk about in just a minute), really only need two backdrops in their studio: black and white.
Black is the "go-to" background for dramatic compositions or to make colors jump off the screen. White, however, can be used in many different ways. In the excellent article on DIY Photography titled, Create Four Different Background Styles Using Only 1 White Seamless Paper, photographer Laya Gerlock shows you how to manipulate white backdrops in a variety of ways... including how to make it pure white and not yucky gray.
A 12 yard roll of 53" wide seamless white paper costs only $25.95. You can construct a backdrop support frame out of PVC pipe or purchase an affordable kit. Either way, you can convert a standard home living room into a portrait studio in less than an hour.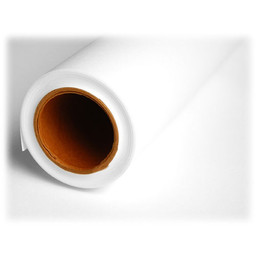 If you want to shoot more creative indoor portraits, take a look at Laya's article, and get your hands on a roll of white seamless paper.
Want to Comment on this Post?
You can share your thoughts at the TDS Facebook page, where I'll post this story for discussion.
Aperture Portrait Tips and Techniques
To learn about portrait retouching in Aperture, including a trick to brighten white backdrops, take a look at Portrait Retouching with Aperture. You may want to check out my other Aperture titles, including Aperture 3.3 Essential Training (2012), Using iPhoto and Aperture Together, and the latest, Enhancing Product Photography with Aperture. Also, take a look at our Aperture 3 Learning Center. Tons of free content about how to get the most out of Aperture.