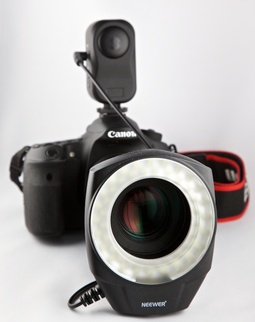 I've been having a blast with the $30 NEEWER 48 LED Ring Light
that mounts directly to my macro lens and is powered by 2 AA batteries. Sound too good to be true? It isn't.
You don't have to worry about flash sync or TTL communication since the NEEWER lighting is continuous. There are 3 lighting options: full, left side only, or right side only. The output is approximately 15GN (both lights on), which is plenty bright for macro photography, and helpful for portrait shooting in good ambient light.
I've found the light so useful, and easy to use, that I just leave it mounted on my Canon 100mm f/2.8 macro lens. The kit includes mounting rings in the following diameters: 49mm, 52mm, 55mm, 58mm, 62mm, and 67mm. You also get a plug-in wall adapter if you don't want to use batteries, although I've been getting more than an hour of use from two rechargeable AAs.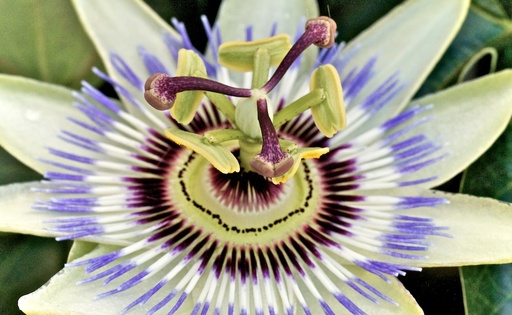 Passion Flower in the shade illuminated with the NEEWER 48 Ring Light.
On the downside, this isn't the most rugged unit. So it probably won't take extended abuse. Also, the ring light does swivel on the adapter. I've found that by moving the power cord under the lens then bringing it up to the hot shoe from the opposite side helps stabilize the ring light. You could also use a bit of gaffer's tape.
Aside from that, however, this light is fun... and a bargain. If you've wanted to experiment with ring lighting for your close-up photography, I would give this unit
a try.
---
The Digital Story on Facebook -- discussion, outstanding images from the TDS community, and inside information. Join our celebration of great photography!
---