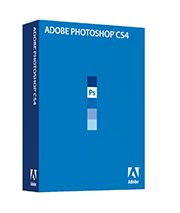 Once you download the trial version of Photoshop CS4, you have 30 days to freely explore, test, and enjoy its bounty of new features. Here are a few things I'd look at during the trial.
Review Mode in Bridge. I've really become hooked on this carousel approach to sorting images. Enable by pressing CMD-B or CTRL-B. Use right and left arrows to navigate, and the down arrow to drop images out of the carousel. Once you have your favorites, use the Make Collections icon to save them as a group.
Collections in Bridge. These virtual folders are like Albums in iPhoto and Aperture, and similar to Collections in Lightroom. They finally give us the versatility to group images without messing up our filing organization.
Graduated Filter in Adobe Camera Raw. What a great addition this is to ACR! Not only can you use it for tonal adjustments, but for color and sharpness too. You'll find it in the toolbar at the top of ACR.
Localized Corrections with the Adjustment Brush in ACR. Another killer tool that allows you to work on specific areas nondestructively. You'll find it in the toolbar at the top of ACR.
Targeted Adjustment Tool in Curves and HSL Adjustment Panels in Photoshop. I like the new Adjustment Panel that automatically creates a new layer for you. But I really like the Targeted Adjustment Tool in the Curves and HSL panels.
Birdseye View in Photoshop CS4. Great navigation addition. When you're working with an image at magnification, hold down the H key and click. Photoshop takes you into Birdseye view enabling you to easily navigate to another area of the photo. You have to see it to believe it. And zooming (Z) in general is smoother and more fun. Try it.
Another recommendation is to get the book, The Photoshop CS4 Companion for Photographers before you download the trial. This 190 page guide will only set you back $16.49 on Amazon, and it can serve as your navigator for exploring Photoshop CS4. If you decide CS4 isn't for you, then you can pass the book along to someone else. If it is for you, you have the perfect companion for learning the new application.
---
-
---
Technorati Tags: Adobe Photoshop, Derrick Story, digital photography, Photoshop CS4 Companion for Photographers, Technology, The Digital Story