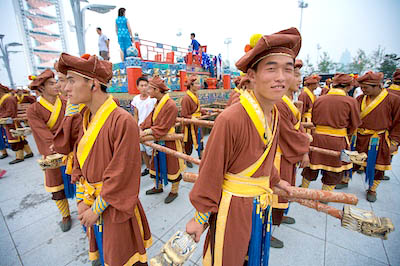 The hours leading up to the opening ceremonies at the Beijing Olympics could best be described as patient happy anticipation. I was allowed access all the way up to the stadium ticket entrance. At first, this might sound disappointing to not have admission inside. But you needed a special pass even for the common area outside the stadium. The rings of security here in Olympic Village are many and substantial. I didn't get my common area authorization until the last minute.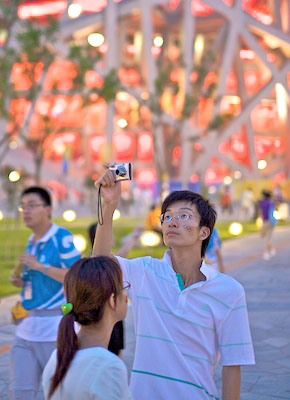 But it was worth the wait. I saw the buses of athletes driving by one by one in an endless stream that never seemed to end. Many of the opening ceremony participants were congregating in the common area interacting with visitors, posing for pictures, and making last minute preparations. Everywhere I turned there was something colorful and compelling to photograph.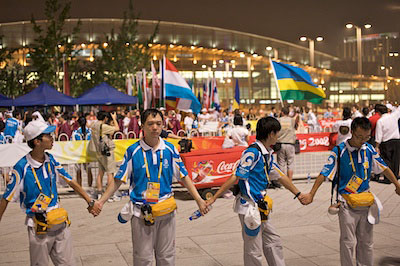 Once the event began, there was still plenty of activity outside. The battalions of athletes began to form, slowly marching forward to receive their nation's flag as they entered the stadium. Crowds would line up along the human barricades formed by Chinese volunteers holding hands to create a barrier that seemed to stretch as far as the Great Wall itself. The nice thing about this approach, is that you could see everything going on, yet the athletes were protected.
Then there were the fireworks, so loud and intense that they shook the buildings. I got back to my room after midnight, edited some pictures, and fell asleep twice at the computer. Finally, I gave in and went to bed, knowing that hours later I would be back at work in the Olympic Village.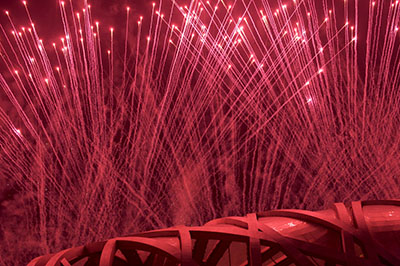 Photos by Derrick Story, captured with a Canon 5D with 16-35mm f/2.8 L II and Sigma 50mm f/1.4 lenses. ISO 1600.
Technorati Tags: Beijing Olympics, Derrick Story, Digital Photography, Technology, The Digital Story