The blustery Spring weather in Northern California was perfect for a Sunday day hike. Normally, I would slip the Fujifilm XF10 into my cargo shorts pocket because of its excellent color rendition. But since I have the equally svelt Ricoh GR III on loan, I packed it instead. It did not disappoint.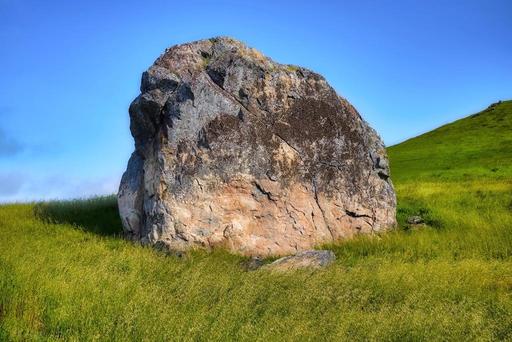 Big Rock Trailhead - Ricoh GR III. Photo by Derrick Story.
One of the challenges of springtime hiking is that I'm not in my best outdoor shape after the wet winter. So climbing those hills with as little gear as possible is important.
For this 5 mile hike with 1,100' elevation gain, I brought the Ricoh, a water bottle, and my iPhone X. Other than what I was actually wearing, that was it. And I have to say that climbing those hills was much more enjoyable as a result.
Hiking on the Ridge - Ricoh GR III. Photo by Derrick Story.
In addition to its APS-C sensor, and excellent 28mm lens (equivalent), the GR III produces excellent DNG files with good color.
I mention the DNG files on purpose. I shot RAW+Jpeg on this hike, and it was clear that the DNG files looked much better in Capture One Pro 12 than the corresponding Jpegs. The RAW files had better color and tonal gradation. A lot of times I don't really start to notice a difference between RAW and Jpeg until editing. But in the case of the GR III, there was quite a distinction between the two even at the thumbnail phase.
The upshot of this is interesting to me. Because for urban shooting, I really love the Jpegs in the various monochrome modes available on the GR III. They are just beautiful. But for color work, I very much prefer the DNG files, at least those processing in Capture One Pro, to the Jpegs.
Cattle on the Ridge - Ricoh GR III. Photo by Derrick Story.
After process the RAWs in Capture One Pro 12, I did a little finishing work on a couple of the images with Luminar Flex. I particularly like warming up the tones a bit with the Golden Hour filter, then adding a dash of secret sauce with the Orton Effect adjustment.
The bottom line, I was pleased with the images that I created with the Ricoh GR III on this hike. And I throughly enjoyed my workout as well, staying nimble with this little guy not slowing me down at all.
Capture One Pro 12 Essential Training
You can learn all the ins and outs of this amazing software in the comfort of your home, or even on your smartphone by watching this fast-paced training: Capture One Pro 12 Essential Training on LinkedIn Learning. If you're a lynda.com fan, it's available there as well. You will learn everything from image organization, to expert editing, to output and more. It will feel good to finally take control of your photo library with Capture One Pro 12.
You can share your thoughts at the TDS Facebook page, where I'll post this story for discussion.