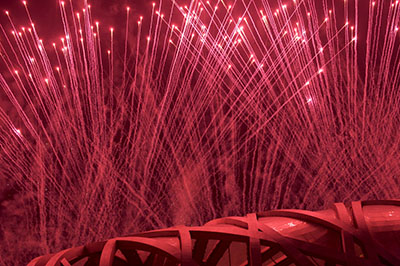 My friend Deke McCelland wrangled nine new photos out of me, 1200 pixels wide, and published them on deke.com. Some fun stuff here if you like to see 'em big.
Photo of Olympic Opening Ceremonies at the Bird's Nest by Derrick Story, Canon 5D, Sigma 50mm lens.
---
Now Available! The Digital Photography Companion. The official guide for The Digital Story Virtual Camera Club.
25 handy and informative tables for quick reference.
Metadata listings for every photo in the book
Dedicated chapter on making printing easy.
Photo management software guide.
Many, many inside tips gleaned from years of experience.
Comprehensive (214 pages), yet fits easily in camera bag.
---
Technorati Tags: Beijing Olympics, Derrick Story, digital photography, Technology, The Digital Story