This is The Digital Story Podcast #696, July 16, 2019. Today's theme is "5 Ways to Go Beyond the Postcard Shot." I'm Derrick Story.
Opening Monologue
Over the last couple weeks, I've been scouting locations for our Sonoma Coast Exploration Workshop. And I can't tell you how beautiful the landscape is here. In such environments, it's easy to just take pretty pictures. But our workshop crew is going to push beyond that. And in today's show, I'll share 5 of my favorite ways to do that.
5 Ways to Go Beyond the Postcard Shot
It's interesting. When I'm scouting locations, I have to move quickly and work efficiently. I typically use my Fujifilm XF10 for scouting because it fits in my pocket and renders beautiful big shots.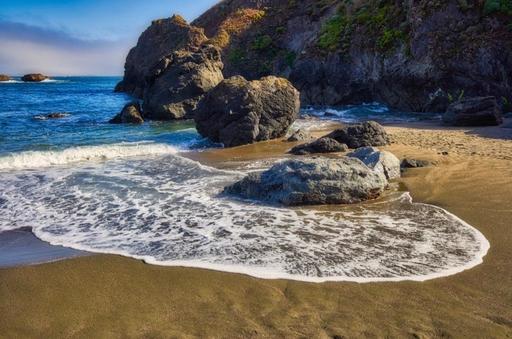 "Quiet Cove" - Fujifilm XF10, ISO 200, 1/500th at f/5.6. Photo by Derrick Story.
By the time the workshop begins, I have quite a collection of pretty pictures. They're great to have. But one of their unexpected purposes is to help me think about different ways to render those scenes. So they're helpful for not only location, but for technique.
I then share those techniques with the workshop crew before they go out to shoot. Yes, I want them to capture the postcard shots, but I don't want them to stop there. This is the opportunity to keep pushing creatively.
After examining my latest catalog of scouting images, here are 5 of the techniques I'm going to recommend.
5 Creative Techniques
Long Exposure Water - This one is a natural for the Sonoma Coast. Active tide combines with rocky coastline make for wonderful long exposure images. Tripod, ND filter, and cable release. Here's the bonus tip, however, use the mobile app Spectre to preview the image before setting up. You can handhold a Spectre shot on an iPhone, and if you like it, then set up and record the high resolution version with your camera.

Black & White - Mirrorless cameras, in particular, are including some dynamite B&W modes that are perfect for costal landscape. True, you can convert in post. But I find it far more stimulating to shoot in RAW+Jpeg using one of these dynamic filters.

High Dynamic Range - We have ample lab time during the workshop, so working true HDR is a great option. Don't use the HDR that your camera processes, bracket exposures and really work in on the computer. Knowing that you'll be able to handle extreme contrast allows you to really get creative in the field.

Multi Exposure - Many mirrorless cameras, DSLRs, and even 35mm film bodies have this capability. I think it makes more sense for digital because you can experiment with abandon. The results can be unique and quite compelling.

Art Filters - Seems like we never have time to fully explore the various art filters on our cameras. But there can be film emulation, dramatic tone, faded colors, sepia, and lots and lots more. If you shoot RAW+Jpeg, you can experiment all you want and still have the RAW file as a safety net.
Postcard images do have their place in our photo libraries. And some viewers prefer them to more artistic endeavors. But the opportunity to really hit it out of the park comes when we push the creative envelope. That's what we'll be doing next week. Hope I've inspired you to do the same.
New Nimble Podcast - Photographer Shelby Knick
In the podcast titled From Outside the Fence to In, Shelby talks about her first interview to apprentice with a pro photographer for motor sports. I thought you might enjoy this anecdote.
The entire conversation is terrific. I think you will enjoy what Shelby has to say. To ensure that you don't miss any of the podcasts, I recommend that you subscribe to The Nimble Photographer Podcast on Apple Podcast, Stitcher, Google Play, or where every you tune in.
f/1.4 vs f/1.8: Can You Actually Tell the Difference?
You can read the entire article here. Here are some of my favorite passages:
Given how much more it costs to buy an f/1.4 prime compared to an f/1.8, beginners in particular often ask if the upgrade is worth it. Build quality and optical quality being equal, is the difference in light gathering capability and depth of field noticeable? Can you really tell?
Photographer and YouTuber Pierre Lambert decided to do a blind "taste test" so to speak and find out if his viewers could actually tell the difference between photos shot at multiple locations at both f/1.4 and f/1.8, with a few shots taken at f/2.8, f/4 and f/5.6 thrown in just for fun.
From wide shots to street photos to tighter compositions with plenty of bokeh to analyze, he captured a total of 7 locations. Here's just one of those comparisons. Can you tell which is which?
Do You Have a Film Camera that Needs a Good Home?
Over the last year, I've received donations from TDS members who have film cameras that need a good home. What I do is inspect the items, repair and clean as I can, then list them in TheFilmCameraShop where I can find a good home for them. If you're interested in donating, please use the Contact Form on TheNimblePhotographer site. And thanks for you consideration!
Updates and Such
Inner Circle Members: A big thanks to those who support our podcast and our efforts!
B&H and Amazon tiles on www.thedigitalstory. If you click on them first, you're helping to support this podcast. And speaking of supporting this show, and big thanks to our Patreon Inner Circle members:
And finally, be sure to visit our friends at Red River Paper for all of your inkjet supply needs.
See you next week!
More Ways to Participate
Want to share photos and talk with other members in our virtual camera club? Check out our Flickr Public Group. And from those images, I choose the TDS Member Photo of the Day.
Podcast Sponsors
Red River Paper - Keep up with the world of inkjet printing, and win free paper, by liking Red River Paper on Facebook.
Portfoliobox - Your PortfolioBox site is the best way to show off your best images.
The Nimbleosity Report
Do you want to keep up with the best content from The Digital Story and The Nimble Photographer? Sign up for The Nimbleosity Report, and receive highlights twice-a-month in a single page newsletter. Be a part of our community!
Want to Comment on this Post?
You can share your thoughts at the TDS Facebook page, where I'll post this story for discussion.