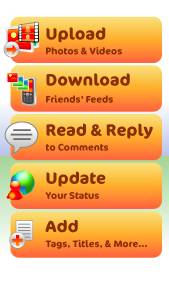 I was chatting-up the value of smart phone cameras the other day, then luckily ran across an interesting application for smart phone shooters called ShoZu.
ShoZu connects your mobile phone to online sites such as flickr, YouTube, facebook, Blogger, and even photoshop.com. You can upload your images, access feeds from friends, reply to comments, add descriptions, geo-tag and more. There are versions for BlackBerry, iPhone, Motorola, Samsung, Nokia, Sony Ericsson, and many more.
The iPhone version I tried was free, and I think the others are too. It's an interesting application for those who like to interact online via their phone.
---
-
---
Now Available! The Digital Photography Companion. The official guide for The Digital Story Virtual Camera Club.
25 handy and informative tables for quick reference.
Metadata listings for every photo in the book
Dedicated chapter on making printing easy.
Photo management software guide.
Many, many inside tips gleaned from years of experience.
Comprehensive (214 pages), yet fits easily in camera bag.
---
Technorati Tags: Derrick Story, digital photography, Digital Photography Companion, iPhone, Technology, The Digital Story