Despite being a diehard Capture One user, I prefer quick portrait retouches in Photos for macOS. Why? (That's crazy, right?) Well, actually it's not, and I'll explain why here.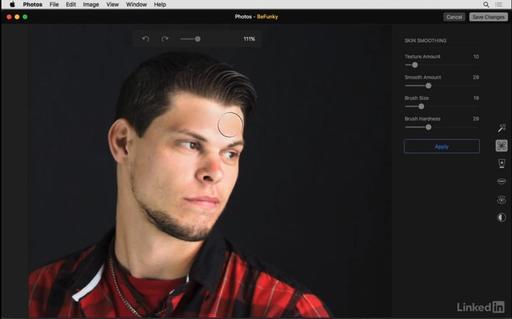 As you're probably suspecting right now, the key to this workflow is the editing extension functionality in Photos. In this case, I rely primarily on BeFunky and Pixelmator Retouch. Both have a variety of brushes, including soften, that makes it easy to apply basic improvements to a portrait. Here's a movie where I show you how I use a soften brush to minimize sunburn lines.
Other helpful tools include tooth whitening, eye brighting, skin tone, and of course, cloning. These are the common adjustments that I need for my people shots. And I have them right here in Photos.
Then, once I finish an image, it automatically propagates to all of my other computers and devices via iCloud. So the updated image appears on my iPhone, for example, and is ready to share with the world. This is a terrific workflow, especially for your personal work.
Master Photos for macOS
(It's More Powerful than You Think)
VIDEO TRAINING
Want to see how easy it is to apply local edits to your images using Editing Extensions? Take a look at my new lynda training, Photos for OS X: Extensions for Local Adjustments.
And for an overview of all of the great features in Photos, my Photos for OS X Essential Training will get you up and running quickly. I cover everything you need to know to get the most from this surprisingly powerful image management application.
INSTRUCTIONAL GUIDE
The Apple Photos Book for Photographers
For photographers who are more than just casual snapshooters, or who are making the transition from Aperture or iPhoto, The Apple Photos Book for Photographers shines a light on the sophistication of this app and the ecosystem it taps into. Available as an eBook now, and coming to print later this year.
Get it for $15 using checkout code APPLE15!
Want to Comment on this Post?
You can share your thoughts at the TDS Facebook page, where I'll post this story for discussion.