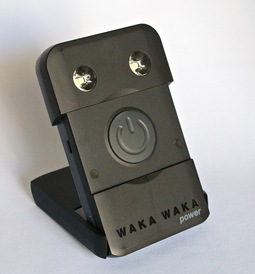 The Waka Waka Solar Charger combines two functions I often need when working in the field: unlimited portable light and the ability to recharge my iPhone.
Even though it's only about 4" long, the Waka Waka houses 8 high efficiency solar cells, a battery, two LED lights, USB charging out, and mini USB charging in (for when you don't have solar available). The dual lamps have three brightness settings: 100 percent output that runs for 20 hours off a full charge, 50 percent for 40 hours, and 25 percent brightness that's good for 100 hours. Even at 25 percent output, you can read a book. Impressive.
The Waka Waka is very compact and extremely light.
The light can be positioned using the built-in stand, mounted on a bottle for elevated light, or hung via a string. I've used it in my tent and on a camping table. And thanks to the multi-positionable stand, I can angle the light exactly how I need it.
To fully charge the Waka Waka via solar takes about 8 hours. But most of the time I only depleted 25 or 50 percent, requiring just a few hours to charge it back up. There are four green LEDs on the top of the unit that display its current amount of charge.
Recharging the Waka Waka. The solar cells are on its back side.
I devised a holder for my backpack that's made of mesh and allows me to charge the Waka Waka during the day while I'm hiking. Depending on the brightness and angle of the sun, I've replenished up to 50 percent while on the trail.

I can charge the Waka Waka while hiking by using this DIY mesh pouch.
I've also recharged my iPad mini and iPhone using this device. It drains the battery faster than using the lights, but adding 50 percent more service to my iPhone while backpacking is wonderful! In fact, I recommend carrying two units: one for lighting and the other for recharging mobile devices. The Waka Wakas are available in two colors: black and yellow. I have one of each, which makes it easy to tell them apart.
Charging my iPhone with the Waka Waka.
The devices cost $79 each with free shipping in the US. They fit easily in a camera bag, backpack, or glovebox. The solar cells are surprisingly efficient, and the output is impressive. If you're looking for nimble solar power station, I would definitely investigate the Waka Waka. I never leave home without mine.
Want to Comment on this Post?
You can share your thoughts at the TDS Facebook page, where I'll post this story for discussion.