This is The Digital Story Podcast #699, August 6, 2019. Today's theme is "How to Defeat Routine." I'm Derrick Story.
Opening Monologue
My favorite definition of routine is by Merriam-Webster, which says "habitual or mechanical performance of an established procedure." As we do something over and over, our brains can take shortcuts because we're familiar with the sequence of steps, such as taking a picture. And this certainly can dampen our creativity. But today we will restore vitality to our photography in 5 easy steps.
How to Defeat Routine
Don't get me wrong. There are moments in my life when I like routine. Mornings are an example. I don't want to reinvent the first hour of my day. I want it to be as mindless as possible. Feed the cat, pour the coffee, check email - it's all I can handle before 6am.
I also like my first 30 minutes at work. Unpack my bag, once again feed the cat (a different one this time), make another cup of coffee, read the day's news, post online, have breakfast. I truly enjoy this. The joy of routine is that it's easy on the brain. I can gently work up to my day, and by 8:30am or so, be operating at full capacity.
But routine can work against us as well. It can dampen our enthusiasm for romance, stifle innovation, and dull our creativity.
As photographers, we work so hard to master the steps that lead to professional image making. We learn about exposure, color, motion, composition, depth of field, focal length and more. These tools of the trade are important. But we often make a critical mistake once we're comfortable with them. Instead of springing headfirst into the creative unknown, we rely on our ability to make an image that's simply good enough.
Unlike our morning coffee, we must resist this urge to operate on autopilot. And here are five ways to to defeat routine.
5 Ways to Defeat Routine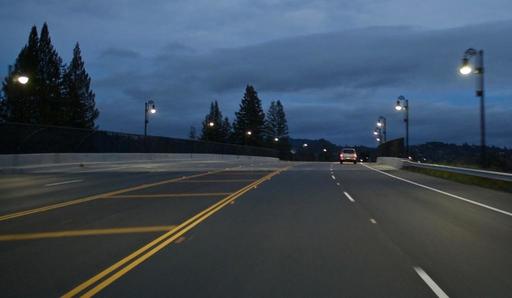 Get in the Car and Go Somewhere - Most of us can set aside a day for a road trip. Make it happen. Go somewhere and experience a change of scenery. It's invigorating.

Try a New Lens - Whether you rent or buy, it makes little difference. But a new optic is a new way to see the world. Go wide, go long, run into the darkness with a wide aperture.

Work with New People - During my scouting trip, I had lunch in Eureka with Richard. He's a local, but he's attending our Humboldt Redwoods Workshop. Why? "Because I want to see this scenery through new eyes, the eyes of those attending the workshop." Working with new photographers is both amazing and invigorating.

Design a Photo Challenge - People love the assignments that I give them on our workshops. But you can create them for yourself as well. Challenge yourself to shoot with a new technique for the day, such as HDR. Often this opens up the passages for other creative perspectives.

Shoot in Manual Exposure Mode - Setting the exposure mode is at the beginning of most of our photo routines. So by disrupting the first step, you change the entire sequence, thereby forcing your brain to kick in to gear again.
Routine helps us conserve our energy to get through the day. But do not let it become the day, especially when we're making pictures. Fight back and surprise yourself with something fresh and new.
New Course Offering: Podcast Skills
A course on podcasting has been the number one request for new workshop topics. And after some time thinking about the best way to make this happen, I've come up with a one day skills course that you can attend from home, or wherever you have an Internet connection.
This event will cover the following topics:
Recording Hardware
Editing Software
Concept and Creation
Essential Storytelling Techniques
Show Notes
Syndication and RSS Feeds
Getting Your Show on Apple Podcasts, Google Play Music, Stitcher, and More
Adding Music to Your Show (and Where to Get It)
Editing Workflow
Promoting Your Podcast
The Ins and Outs of Advertising and Sponsorships
The topics will be divided into modules and presented live, and they will be recorded as movies as well. Each participant will receive the catalog of HD movies from the day as part of their tuition.
The course will include insider tips, best practice techniques, and multiple Q&A sessions. Each participant is also entitled to one follow up one-on-one session after the workshop to address questions unique to his or her goals.
The live course, set of recorded videos, and the follow up one-on-one session costs only $249. Inner Circle Members get a 10 percent discount on tuition.
The first two course dates are scheduled for October 12 and November 9, 2019. Participation is limited to 10 people per course, first come, first served. Registration is open now at www.thenimblephotographer.com. Click on the 2019 Workshops tab.
New Nimble Interview: Chuck Leavell, Keyboardist for the Rolling Stones
An interview with musician Chuck Leavell, whose journey began with Allman Brothers Band, and who is currently touring with the Rolling Stones on their No Filter tour. In this conversation, Chuck talks about the Stones, Eric Clapton's unplugged album, his work as a writer, and his definition of success.
The entire conversation is terrific. I think you will enjoy what Chuck has to say. To ensure that you don't miss any of the podcasts, I recommend that you subscribe to The Nimble Photographer Podcast on Apple Podcast, Stitcher, Google Play, or wherever you tune in.
Sony Cyber-shot RX100 VII: What you need to know
You can read the entire article here. Here's the scoop:
The Sony Cyber-shot RX100 VII is, as the name suggests, the seventh completely new model in the company's pocketable large sensor zoom compact series. Like 2018's Mark VI, the VII is a 1" sensor pocket superzoom, with a lens that stretches from a wide-angle of 24mm equiv up to the telephoto realms of 200mm equiv at the long end.
Like its predecessor, it features a stacked CMOS sensor with DRAM storage built into the chip itself, allowing it to buffer the data it so quickly reads out from its sensor. But the main thing the latest camera brings is updated autofocus capability and usability, which could prove to be bigger steps forward than it might sound.
The Sony Cyber-shot RX100 VII is available for preorder for $1,198 and should ship by the end of the month.
Updates and Such
Inner Circle Members: A big thanks to those who support our podcast and our efforts!
B&H and Amazon tiles on www.thedigitalstory. If you click on them first, you're helping to support this podcast. And speaking of supporting this show, and big thanks to our Patreon Inner Circle members:
And finally, be sure to visit our friends at Red River Paper for all of your inkjet supply needs.
See you next week!
More Ways to Participate
Want to share photos and talk with other members in our virtual camera club? Check out our Flickr Public Group. And from those images, I choose the TDS Member Photo of the Day.
Podcast Sponsors
Red River Paper - Keep up with the world of inkjet printing, and win free paper, by liking Red River Paper on Facebook.
Portfoliobox - Your PortfolioBox site is the best way to show off your best images.
The Nimbleosity Report
Do you want to keep up with the best content from The Digital Story and The Nimble Photographer? Sign up for The Nimbleosity Report, and receive highlights twice-a-month in a single page newsletter. Be a part of our community!
Want to Comment on this Post?
You can share your thoughts at the TDS Facebook page, where I'll post this story for discussion.