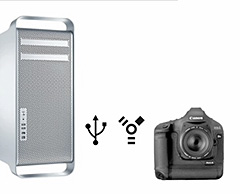 Tethering a camera to your computer allows you to capture images directly into it. This is particularly handy for product shots and in-studio portraits when you want to see a full resolution version of the photo right away. With a tethered camera, you click the shutter and the image appears on your monitor. Just like that.
Many DSLRs will have tethering software bundled in their kit. Both Canon and Nikon provide this feature on most of their advanced cameras. Check their software disks for more information.
Aperture 2 also provides tethered shooting. You can refer to this chart to see if your Canon or Nikon camera is supported. In general, tethered Nikon DSLRs work with both Tiger and Leopard, and Canon shooters must be running the Leopard for this feature.
If you have a camera and software that supports this technique, I suggest you give it a try. It's a great feeling to click the shutter, and then see the image appear instantly on your computer monitor.
Technorati Tags: Aperture, Canon, Nikon D300, software, technique, Technology, The Digital Story