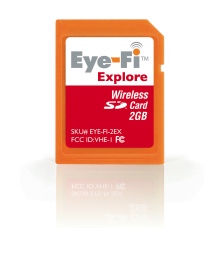 Eye-Fi Explore looks like a typical SD Card, but it's actually a 2GB storage and wireless device that can add geographic location labels to your images. In other words, maybe we finally have an easy way to geotag our images.
I haven't tested this yet, so I'm not sure how it works. But I am interested. If anyone has additional info, please post a comment.

Events! See the TDS Event Calendar for photography workshops, speaking engagements, and trade show appearances.
---
Technorati Tags: Derrick Story, digital photography, Eye-Fi, Technology, The Digital Story