This is The Digital Story Podcast #740, May 26, 2020. Today's theme is "5 Ways to Improve Your Videoconference Presence." I'm Derrick Story.
Opening Monologue
One way or another, you're going to find yourself sitting in front of a webcam. It could be for work, for family, for class or even for a job interview. But unlike a lot of other modern day situations we find ourselves in, no one has really told us how to do this. That is, until today. I hope you enjoy the show.
5 Ways to Improve Your Videoconference Presence
Needless to say, I've had some interesting online conversations over the last couple months. I have seen parts of people's houses that I really wasn't prepared for. And then, there's been the mix of interesting lighting and tin can audio.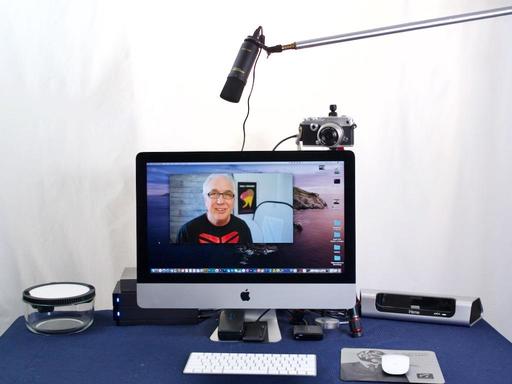 So, I've decided to take the microphone by the horns and do two things for my contribution to the greater video conferencing world. First, I have some tips today that are easy to enable and that you can do right now. Then second, later this week, I'm releasing "The Essential Steps to Impressive Video Conferencing," a 1-hour movie that covers audio, video, and environment. I'll talk more about it later this show. But I'm going to mention now that it will be free to our Inner Circle Members who support this podcast on Patreon.
But for the moment, let's get to those 5 tips.
5 Tips
Get Thee to Ikea - Your conference call lighting should be diffused and from the front. A good rule of thumb is that the light shining on your face should be brighter than the background. Go to Ikea.com and search on diffused lighting. You have choices among a number of lamps that would make perfect light sources for your online persona. And if you have a north facing window, that will work as well. Just put it in front of you, not behind. And finally, think Daylight Balance for your bulbs. Tungsten bulbs will render you orange and fluorescent tubes will make you green. Whatever light source you ultimately settle on, try to get it as close to daylight balance as you can.

Darling You Look Marvelous! - Unfortunately, the built-in 720p webcam for many laptops and desktop isn't a flattering camera. Plus, you can't really adjust it. But, if you can get your hands on a a digital interface, such as Cam Link, then you can connect your wonderful mirrorless camera. The difference is striking. I'm using an Olympus PEN-F with 17mm f/1.8 lens. Oh, and don't forget to look into the lens when talking!

What the Hell Is that Behind You?! - We don't want to see your bed, your laundry, nor your aluminum recycling bin - too much information of the wrong kind. Just like in photography, the background is almost as important as the subject. Keep it clean and don't show us anything that we don't want to see.

Sound as Good as You Look - Audio can also be a challenge. Some built-in computer mics are quite decent, but others leave much to be desired. If you have a set of AirPods, those can improve your sound for both computer conferencing or while on the phone. For details on how to set them up, check out my article, How to Connect AirPods to Your Mac for Videoconferencing.

Bandwidth, Bandwidth, Bandwidth! - If you've been cheaping out on your Internet service, you an endangered of becoming the zebra at the back of the pack in the new world. Video conferencing relies on data packets flying back and forth in real time, and that requires at least 1.5 Mbps (Megabits per second for both directions (download and upload). You can check your bandwidth here.
You can watch a BTS video of me using my rig. I have a USB mic with the PEN-F. More to come on this topic in the next story.
The Essential Steps to Impressive Video Conferencing
If you want to learn more about looking and sounding great for your next online interaction, then I think you'll very much enjoy my latest online workshop, The Essential Steps to Impressive Video Conferencing.
This 1-hour deep dive focuses on the 3 major areas of successful online interaction: Audio, Video, and Environment. During the course, I walk you through a variety of techniques that range from simple using gear that you already have, to improving your chops through a few inexpensive purchases.
The course will be available free to our Inner Circle Members on Patreon on Sunday, May 31. Just go to our Patreon site, and all the information will be there. If you're not already an Inner Circle Member, you can join us for $5 a month.
I will also make the course available on June 2 at our Nimble Photographer Workshop Page for $14.95.
I have tons of great tips and techniques waiting for you there. If you want to get serious about how you come across during online meetings, classes, interviews, and family interactions, then you definitely will want to watch this course.
A Shout Out to Members Who Have Sent Film Cameras
It's been wonderful interacting with the recent contributors to TheFilmCameraShop. Here's a shout out to: Greg, Sergio, Bill, Tim, Nonnie, David, Paul, and Dave. All of you rock!
If you found a film camera that you're no longer using, our new Donation Kit makes it easy to pack and ship. Just visit the Contact Form on thenimblephotographer.com, click the box next to Donating a Film Camera, and let me know what you have. In your note, be sure to include your shipping address.
If it's a camera we can use for the shop, I'll send you a Donation Kit that includes a USPS Priority Mail shipping box and prepaid label. All you have to do is tape it up, insert the camera, and add the label. USPS will pick up your shipment from the front door of your house during their regular mail delivery. It's that simple!
Your donation help get analog gear in the hands of aspiring fine art photographers, and the proceeds help support this podcast.
Digitizing Family Memories Course Now Available Online
Each of the four classes will outline a specific set of steps for you to accomplish. By the end of the course, you will have an organized digital archive of your most valuable family images.
You can sign up for the course by visiting the Workshops page on The Nimble Photographer. The course fee is a reasonable $39 (on sale right now). It includes the 4 class videos, class notes, and access to the class forums that are a part of each movie.
Updates and Such
Inner Circle Members: A big thanks to those who support our podcast and our efforts!
Due to the coronavirus pandemic, we've had to postpone our July photography workshop at Lassen Volcanic Park. We so still have on the schedule, however, our Eastern Sierra event in October.
How to Watch Photos for macOS Catalina and iPadOS - Learn everything you need to know about Photos for the Mac and iPad by checking out my latest course on LinkedIn Learning and on lynda.com. This course is perfect for Mac and iPad based photographers who shoot with iPhone, Mirrorless, and DSLR cameras. It covers both photography and movies. And if I say so myself, it's a lot of fun.
B&H and Amazon tiles on www.thedigitalstory. If you click on them first, you're helping to support this podcast. (The Digital Story is supported by its audience. When you purchase through links on our site, we may earn an affiliate commission.) And speaking of supporting this show, and big thanks to our Patreon Inner Circle members:
Affiliate Links - The links to some products in this podcast contain an affiliate code that credits The Digital Story for any purchases made from B&H Photo and Amazon via that click-through. Depending on the purchase, we may receive some financial compensation.
And finally, be sure to visit our friends at Red River Paper for all of your inkjet supply needs.
See you next week!
More Ways to Participate
Want to share photos and talk with other members in our virtual camera club? Check out our Flickr Public Group. And from those images, I choose the TDS Member Photo of the Day.
Podcast Sponsors
Red River Paper - Keep up with the world of inkjet printing, and win free paper, by liking Red River Paper on Facebook.
The Nimbleosity Report
Do you want to keep up with the best content from The Digital Story and The Nimble Photographer? Sign up for The Nimbleosity Report, and receive highlights twice-a-month in a single page newsletter. Be a part of our community!
Want to Comment on this Post?
You can share your thoughts at the TDS Facebook page, where I'll post this story for discussion.