This is The Digital Story Podcast #906, August 1, 2023. Today's theme is "The Autofocus Mental Block." I'm Derrick Story.
Opening Monologue
How many times have you had the absolutely incorrect autofocus mode for the subject at hand? Chances are very good more than once. We're such funny creatures, we photographers. We'll double-check our exposure mode, make sure white balance is adjusted, we'll even tap into exposure compensation. But that AF button on the back of the camera... it might as well read "only push in an emergency." Why is that? I have a theory that should improve the situation. I hope you enjoy the show.
Digital Photography Podcast 906
Tune-In Via Your Favorite Podcast App!

---

Apple Podcasts -- Spotify Podcasts -- Stitcher

Podbean Podcasts -- Podbay FM -- Tune In
The Autofocus Mental Block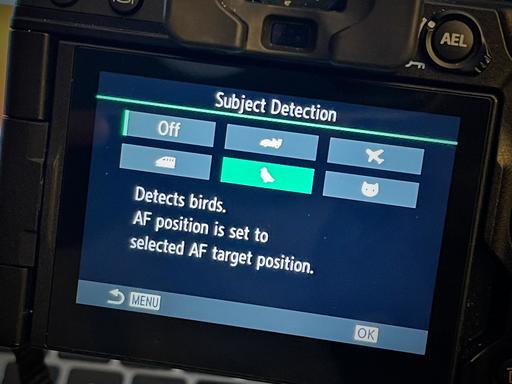 The promise of technology sometimes falls short. We're told that these improvements will save us time, and they may, but it feels like solving one problem often creates 5 new ones.
I'm not saying that autofocus falls into that category. But I will say that life was certainly more simple before it. With manual focus you turn a ring on the lens until the picture looks sharp in the viewfinder. That's it. One sentence.
In contrast, I'm going to spend the next 15 minutes talking about the various different autofocus settings your camera most likely supports and how to use them. See what I'm saying?
Basic Autofocus Modes
Let's start with a review of the basic AF modes offered on most modern mirrorless cameras.
Single AF (S-AF) - The default setting for many photographers. Press the shutter button halfway, focus is locked, press further to make the exposure. Designed for static subjects, but we all know this gets pressed into service more than that.

Continuous AF (C-AF) - The camera starts focusing when the shutter button is pressed, and keeps focusing until the picture is recorded. When you're trying to follow a subject with C-AF, you may or may not get a sharp picture of it. You may get the background, another person, or a light post.

Continuous AF + Tracking (C-AF+TR) - This mode was designed to correct the shortcomings of regular C-AF. The thinking is that if you start by focusing on a subject, the camera will continue to track it regardless of how poorly you follow it.

Automatic AF (AF-A) - Camera switches between AF-S and AF-C depending on if your subject is stationary or if it starts moving.

Subject Detection AF - The camera can identify certain subjects - cars, motorcycles, planes, helicopters, trains, birds, dogs, and cats - and will automatically focus on them.

Face Detection AF - The camera will identify human faces and focus on one or many automatically. And it can often even focus on the eyes, or just the right or left eye.

Manual Focus - The photographer determines the focus by turning the lens ring.
One of the challenges of all these settings is finding them in your camera. On my OM-1, for example, the standard AF modes are on AF-Screen 1. Starry Sky AF is there also. Face and Eye Detection are on Screen 2, as is Subject Detection.
Once you figure all of that out, then you need to choose a Target Mode. On the OM-1, you press and hold the multi-selector on the back of the camera and use the front dial to cycle through all of the Target Mode configurations.
You can choose ALL (1,053 targets), Single, Small, Cross, Middle, or Large depending on your style, the subject, and how much you trust your camera.
A Practical Approach to Surviving Autofocus
First of all, it's imperative that you learn the quick settings for AF functions without having to rumble around in the Menu. If you have to search the Menu in the field, you probably won't do it.
On my OM-1, I press the AF button on the top/left of the camera and use the back dial to scroll through the focus modes. For the Target Mode, press and hold the multi-selector on the back of the camera and use the front dial to cycle. Other settings, such as Subject Detection, work great as My Menu items.
Next, while at home, practice switching between AF and Target modes so that it becomes second nature. If you know you're going to be shooting a certain type of subject before you head out the door, then you can set your camera accordingly. You can also use Custom Modes that combine a variety of settings.
With a little pre-practice, you can master all of the AF settings on your camera and never get caught with your guard down again.
Canon Warns Discarding Its Printers May Pose a Wi-Fi Security Risk
You can read the entire article on Petapixel.com
The number of printers this vulnerability affects is massive and encompasses 196 total models. It includes the home and business E, G, GM, GX, iB, iP, MB, MG, MX, TR, TS, and XK inkjet series as well as the Pro series photo printers (which includes everything from the Pro-10 through the Pro-1000 printers). It also affects some large format printers including Canon's Pro line (Pro-520 through Pro-6100S) as well as the TM, TX, GP, and TC series printers. The full list of all affected printers can be found on Canon's website.
When one of these printers comes into the hands of a third party (such as in the case of repair, loaning it out, or when throwing it away), Wi-Fi connection information is still stored on the device even if it has been initialized through the normal process.
Bleeping Computer notes that those who are aware of the vulnerability could pull the information off the printers which would give them access to the a home Wi-Fi network. The exact information that is stored on the device varies per printer, but it will usually include network SSID, the password, network type, assigned IP address, MAC address, and network profile.
Basically, the printers typically retain all the information a malicious third party would need in order to gain access to a private network. From there, they could access shared resources, steal data, or launch any number of attacks on a user's privacy.
Make sure you reset all settings before handing the printer off to another party.
What's In The Night Sky for August 2023 Including the Perseid Meteor Shower
You can read the entire article on Fstoppers.com
August is upon us and it is going to be an action-packed month for astrophotographers. So what have you got to look forward to? The peak of the brilliant Perseid meteor shower, two supermoons and there is still plenty of Milky Way core action to be had as the nights begin to get darker for those in the higher latitudes of the northern hemisphere.
August also means that, as the nights begin to get longer and the midnight sun comes to an end, for those in the higher northern latitudes this will create more opportunities to photograph the Northern Lights. Be sure to click the link later on for my best tips on how to capture the Aurora Borealis. We are fast approaching Solar Maximum, so I highly recommend chasing the Northern Lights over the next few years.
With the two supermoons being at the beginning and end of the month, the new moon will fall during the middle of the month, just in time for the peak of the Perseid meteor shower around the 12th to 14th of August. The Perseid meteor shower is one of the best meteor displays of the year with many meteors per hour. On a clear night, it is an amazing spectacle for you and your family or friends to enjoy, and even better if you can combine it with some amazing photography.
It's official: new cameras are not getting any better
You can read the entire article on DigitalCameraWorld.com
What do you think is the best full-frame camera currently available, when judged purely on its stills image quality? The Canon EOS R3, a Nikon Z9? Wrong. According to DxOMark, it's a tie between the Nikon D850, and Sony a7R III - two aging cameras launched back in 2017!
Since then several newer cameras have achieved equal overall DxOMark scores; cameras like the Nikon Z7 II, Leica M11, and the Sony a7R V. But in the case of the a7R V, you've got a camera that is five years newer than the Mark III, with an entirely different sensor, but still delivers pretty much the same overall image quality.
This plateau in sensor performance is something I've also observed when lab testing new cameras for Digital Camera World. There's inevitably some difference between rival cameras in a particular segment of the market, but on the whole, a new camera will rarely - if ever - noticeably out-perform its predecessor when judged upon image quality attributes like dynamic range or noise levels. The only area where a new sensor can significantly boost image quality is resolving power, as inevitably a 60MP camera can capture more fine detail than one equipped with a 45MP sensor.
But should we be all that surprised at this lack of recent sensor improvement in interchangeable lens cameras? If we consider the 'peak' of sensor performance to be around 2017, this coincides almost perfectly with the explosion of phone photography, the relentless push towards the 200MP camera phone sensors we have today, and the stunning image quality the latest smartphones can produce. And that's not stunning "for a phone", but stunning, period. However much we may love 'proper' cameras, it's phones that capture the vast, vast majority of images now, so it makes sense that this is where you'll now find the big advances in image sensor development.
So while that new interchangeable lens camera you've been lusting after is unlikely to give you appreciably better image quality than a slightly older model, look on the bright side: you could instead pick up a used camera like a D850 and potentially get equally good images, for a fraction of the price.
Virtual Camera Club News
The Nimble Photographer Newsletter is now publishing every Thursday. Readers will enjoy a variety of content spanning from short photo essays, to commentary on weekly events, to reviews of the latest and coolest photo gear.
TDS Workshops! - You can sign up for available workshops by visiting The Nimble Photographer. Inner Circle Members receive a 10-percent discount on all events.
Inner Circle Members: A big thanks to those who support our podcast and our efforts! We are having a blast at our new Inner Circle hangout, the private group I've set up at DerrickStoryOnline. We'd love it if you join us. You can become an Inner Circle Member by signing up at our Patreon site. You will automatically be added to the new hangout.
Great Photography Articles on Live View - If you check out our publication and appreciate what you see, be sure to follow us and clap for those authors. You can find us at medium.com/live-view.
If you're interested in writing for Live View, drop me a line at dstory@gmail.com.
The New Donation Kit for Carefree Shipping of Found Film Cameras - If you've discovered a film camera that's no longer being used, our new Donation Kit makes it easy to pack and ship. Just visit the Contact Form on thenimblephotographer.com, click the box next to Donating a Film Camera, and let me know what you have. In your note, be sure to include your shipping address.
Affiliate Links - The links to some products in this podcast contain an affiliate code that credits The Digital Story for any purchases made from B&H Photo and Amazon via that click-through. Depending on the purchase, we may receive some financial compensation.
Red River Paper - And finally, be sure to visit our friends at Red River Paper for all of your inkjet supply needs.
See you next week!
You can share your thoughts at the TDS Facebook page, where I'll post this story for discussion.