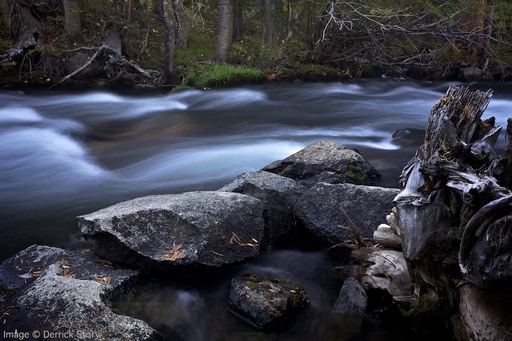 Water is one of my favorite photo subjects, in part because there are so many things you can do with it. Recently I photographed a mountain stream in the Eastern Sierra of California. For this image, I wanted the water soft and dreamlike.
Start with the camera mounted on a tripod to steady the shot. I prefer exposures around 2 seconds. At that interval, the water is softened, but not overly dreamy. To create this long exposure, I put the camera in Aperture Priority mode and stop the aperture down to f/16. I then add a polarizer to give me another 2 stops of density. If I'm working in early morning light, this will usually provide the shutter speed I'm looking for. One important tip, make sure you're not in Auto ISO. Set the camera manually to its lowest ISO setting. Then use the self-timer or a remote release to take the shot. You don't want to jar the camera when making the exposure.
These images can be real eye-catchers when showing off your landscape work.
---
Find great deals at the TDS Photography Store on Amazon.
---