A new entry in the action cam arena is the SOCAM UltiMate, due for release in April.
Highlights include a 330 degree rotatable lens, gyro-image stabilization, 1080p video, slow motion (WVGA 120 fps), time lapse, photo burst (16MP 10fps), simple two-button design, versatile camera mounts, built-in WiFi, and an affordable price. (I heard around $249 with goodies so you don't have to spend extra on accessories. That number still needs to be confirmed.) [Update! I have a confirmed price of $269 US that includes the camera, water-tight housing, accessory clips, battery, and USB cord.]
SOCAM in water-tight housing. I shot with it in a rain storm with no issues at all. Camera is easy to remove from housing when it isn't required. There's also connectors for two additional batteries in the housing. Photos by Derrick Story
The unit I'm testing measures 3.25" wide by 3.5" tall in the water-tight housing. The camera itself with no housing measures 2.75" wide by 2.75" tall. The rotating lens feature is handy. You can mount the camera as needed, then rotate the lens for the best composition. You can't, however, rotate the lens when the camera is in the water tight housing.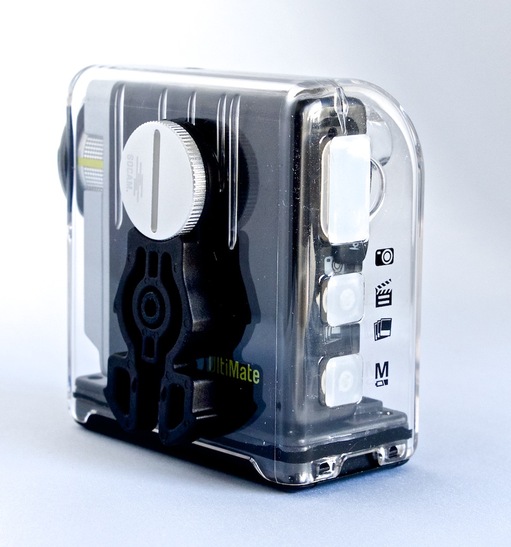 There are four ports: USB, external mic, HDMI, and an accessory port. A standard tripod socket is on the side of the camera. That socket is also used for the included accessory mounts. Video files are written to a micro SD card in the .mp4 format. Quality was quite good in initial testing.
You can connect the camera wirelessly to your iPhone via its built-in WiFi and free SOCAM iOS app. I was able to get the two devices talking, but I need a bit more testing before sharing an opinion about the tandem's performance.
I'll have more to report after further use. But if you're looking for an affordable action cam, you might want to keep an eye out for reviews on the SOCAM after it's released in April.
Want to Comment on this Post?
You can share your thoughts at the TDS Facebook page, where I'll post this story for discussion.