"I've been trying to capture a rocket launch from Vandenberg for almost a year now," writes Thomas Emmerich. "I finally got my chance tonight, and it came out pretty good for my first try. I almost missed it by mis-judging the launch angle from Ventura (CA)."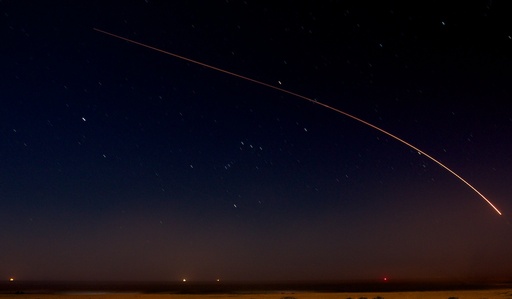 "Rocket Launch" - Grab Shot 213 by Thomas Emmerich. Click on image for larger version.
"I had to move the camera at the last moment and missed the first few seconds of the launch. The hard part about taking these shots is you can't see anything in the viewfinder while setting up, and then once you open the shutter, you can't tell where the rocket is in the frame or if its even in the frame. There are no second chances."
"I used my Canon T2i with a borrowed Canon 17-40mm F4L lens. Settings were F/8 and bulb mode with a infrared remote trigger to start and stop the exposure of 95 seconds. ISO 400. I found tips on photographing rockets at night by doing a Google search for 'Photograph Vandenberg Rocket Launch'".
There was quite a bit of water vapor in the air, which was made visible by the long exposure and the parking lot lights behind me.
This is our 213th Grab Shot! Wow. If you want to review the collection that began back in 2006, go to our Grab Shots page.
If you have a candid you'd like to share, take a look at our Submissions page, then send us your Grab Shot. We'll try to get it published for you on The Digital Story.
And you can view more images from our virtual camera club in the Member Photo Gallery.
---
The Digital Story Podcast App is the best way to stream or download weekly TDS podcast episodes. No more syncing your iPhone, iPod Touch, iPad, or even your Android phone just to get a podcast. And the best part is, The Digital Story Podcast App is your way to help support this show. Download it today!
---