We didn't even have lens correction in Aperture. But thanks to the DxO Optics Pro editing extension, we can apply these adjustments to our images in Photos.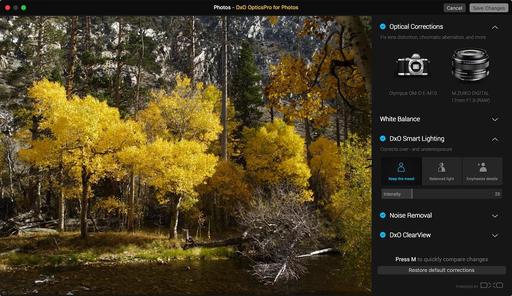 If you want to see how easy this is to use, take a look at this free movie on how to use the DxO Optics Pro extension.
This isn't round tripping. You get to work with the original RAW file, and you can revert to original right there in the Photos interface. Plus you get other goodies too, such as Smart Lighting, Noise Removal, and ClearView. These are terrific tools worth a look.
Photos for macOS as Your Digital Darkroom
You can learn more about using DxO Optics Pro as an editing extension in my lynda.com training, Photos for macOS: Advanced Editing Extensions.
And if you'd prefer to cozy up with a book, check out The Apple Photos Book for Photographers that features chapters on basic editing, advanced post processing, and editing extensions.
You can share your thoughts at the TDS Facebook page, where I'll post this story for discussion.