For the March 2014 Photo Assignment, TDS shooters set their exposure dial to "bracket" and chased after the perfect high dynamic range image. See for yourself in our gallery, HDR. And which one will be the SizzlPix Photo Assignment Pick of the Month?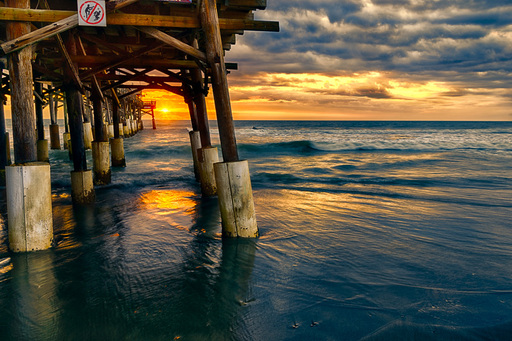 "I hadn't been over to the Cocoa Pier in a while," writes Ed Rosack. "When I checked The Photographers Ephemeris, I noticed that the sunrise azimuth lined up almost exactly with the pier. I made several photos. I like this one best - a perfect place to use HDR." Photo by Ed Rosack. See all of the great images from this month's assignment by visiting the HDR gallery page.
---
Participate in This Month's Assignment
The May 2014 assignment is "Around the House." Details can be found on the Member Participation page. Deadline is May 31, 2014. No limit on image size submitted.
Please follow the instructions carefully for labeling the subject line of the email for your submission. It's easy to lose these in the pile of mail if not labeled correctly. For example, the subject line for this month's assignment should be: "Photo Assignment: May 2014." Also, if you can, please don't strip out the metadata. And feel free to add any IPTC data you wish (These fields in particular: Caption, Credit, Copyright, Byline), I use that for the caption info.
Gallery posting is one month behind the deadline. So I'm posting March 2014 gallery at the end of April, the April gallery will be posted at the end of May, and on and on.
Good luck with your May assignment, and congratulations to all of the fine contributors for March.
---
Want to Comment on this Post?
You can share your thoughts at the TDS Facebook page, where I'll post this story for discussion.
---
iPad for Digital Photographers
If you love mobile photography like I do, then you'll enjoy iPad for Digital Photographers
-- now available in print, Kindle, and iBooks versions.