This was my favorite Instagram year to date. Now that I have a couple seasons under my belt, I'm feeling more at home in this square wonderland. To celebrate, here are the Top 7 photos from this year, based on likes... starting with #1.
#1 - Top Dog
What do you do with a brand new lens? Go out and take pictures. What began as a test for the new Olympus MSC ED-M 75 to 300mm II zoom lens for Micro Four Thirds ended up as my top Instagram image of the year.
#2 - Passion Flower and Butterfly
I keep a camera by my desk when I'm working at the studio. One afternoon, I noticed this butterfly was attracted to the Passion Flower by the sliding door. Once again I used my new Olympus75 to 300mm II zoom lens to capture this year's second most popular photo.
#3 - Fisheye Trees
While scouting in the Eastern Sierra for my Bodie Workshop in June 2015, I used the super affordable and fun $89 Olympus 9mm f8.0 fisheye body cap lens to photograph this Aspen grove.
#4 - Bay Bridge at Night
I was on assignment to cover the DJI Inspire-1 launch event on Treasure Island, San Francisco. But after the gathering broke up, I parked the car along the water's edge and photographed this night scene with the Olympus OM-D E-M1 and Panasonic LUMIX G X VARIO 12-35mm/F2.8 zoom.
#5 - Eastern Sierra Plain
Outside of Bridgeport, CA is a beautiful open space that I captured with a Pentax K-5 and Cokin graduated filter. I was just having fun...
#6 - Moon Shot
I've been admiring this rusty exhaust pipe for years when I came to work in the morning. It's right in my field of view as I walk along the path to the front door of the studio. This particular day, the moon was lined up perfectly for a fun composition. I pulled the OM-D out of my backpack and snapped this image before brewing my first cup of coffee.
#7 Boy in Tall Grass
It's incredible to me how many of my popular shots were captured with the Olympus75 to 300mm II zoom lens, but here we are again. This time I was having my morning coffee while camping at Sugarloaf Ridge in Northern California, and I spotted this boy in the tall grass illuminated by the morning sun.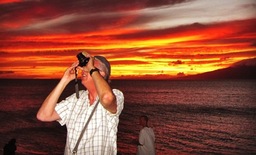 Final Thoughts
I never really know what's going to catch someone's eye. And it's not something I think about while composing the picture. But as I look at this group of shots, I do seen some common themes. They tend to be simple compositions without too many elements. The longer lens certainly had its lion's share of winners. And even though I shoot many, many Instagram pictures with my iPhone 5S, not one them were big favorites this year.
Bottom line is this: I had a blast with Instagram in 2014. And I'm looking forward to a fun, creative 2015.
Want to Comment on this Post?
You can share your thoughts at the TDS Facebook page, where I'll post this story for discussion.
---
Join me on my Instagram site as I explore the world of mobile photography. And now Instagram features 15-second movies too.