I encouraged everyone to experiment and have fun during the Saturday night session of the SF Street Shooting Photography Workshop. I knew that I wanted to play with Art Filters and Live Bulb on my Olympus OM-D E-M10 with M.Zuiko Digital 17mm f/1.8 prime lens.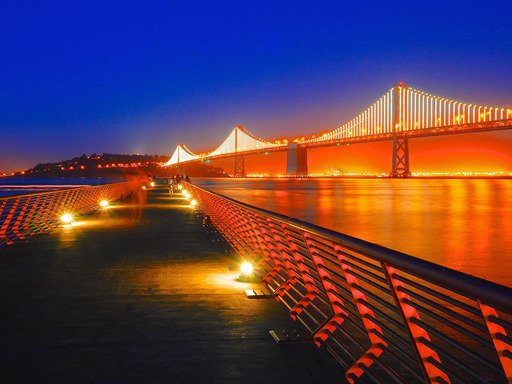 Bay Bridge from Pier 14 with Olympus OM-D E-M10. Photo by Derrick Story.
We had set up shop at Pier 14 on the Embarcadero. I perched my MeFOTO DayTrip Tripod on a covered trash receptacle, set the E-M10 to RAW+Jpeg, enabled the Pop Art filter, and proceeded to have a blast capturing the bridge as it came to life at twilight. The long 13-second exposure helped smooth out the water, and setting the 17mm lens to f/10 with manual focusing allowed me keep all the details crisp.
I also have the master RAW files if I decide to apply a completely different treatment to the image at another time. (When you shoot RAW+Jpeg, the Art Filter is applied to the Jpeg and the RAW is left untouched.)
We wrapped up for the evening around 9:30 pm, then headed back to the Hotel Cartwright to prepare for another day of street shooting.
Want to Comment on this Post?
You can share your thoughts at the TDS Facebook page, where I'll post this story for discussion.