Capture One Pro has arguably the best Aperture library import tool available. You can simply open a new Capture One Catalog, go to File > Import Catalog > Aperture Library, and begin the transition from Aperture to Capture One Pro.
After doing so, how do your Aperture images look in C1? Is the library structure retained. How does the RAW processing compare?
In this 6-minute video, I show you how an Aperture library looks in Capture One Pro. And without giving away too much, I'll tell you now that the transition is pretty darn smooth.
If you've been procrastinating making the move from Aperture to Capture One Pro, this movie should provide some motivation. And since we are going into the off-season for photographers, why not make this your end of year project? Then you can start 2017 with a fresh Capture One catalog.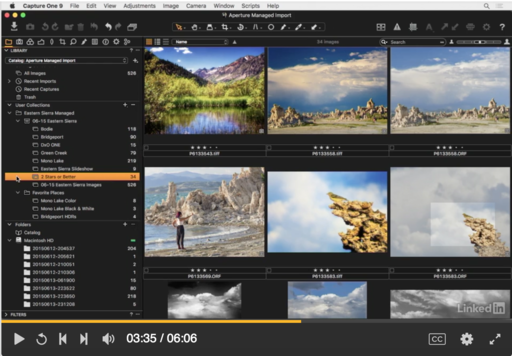 More Capture One Pro Tips and Techniques
Improve your skills by watching Capture One Pro Essential Training now available on lynda.com. More than 5 hours of tips, tricks, and techniques. Plus many free movies using advanced techniques.
I've also created a dedicated Capture One Pro Training page on The Digital Story. You can follow all of the tips and techniques that I publish in one convenient spot.
Thinking About Making the Transition from Aperture or Lightroom? - Download my free eBook titled, Rocky Nook's Guide to Moving to Capture One Pro. I show you the steps to create a test library, then build the foundation for a smooth transition to Capture One Pro.
Want to Comment on this Post?
You can share your thoughts at the TDS Facebook page, where I'll post this story for discussion.