I have a portrait shoot scheduled for later this morning, and I thought that you might like a peek inside my nimble studio.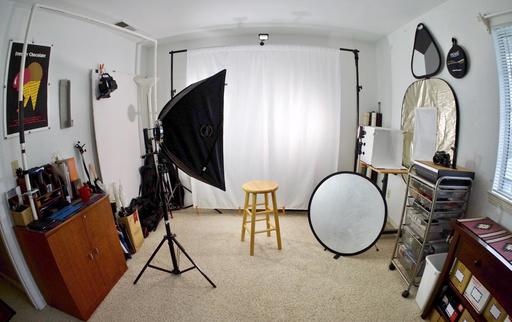 Those of you who have been here for a shoot or for a workshop, know that I bought a townhouse a while back and converted it into TDS headquarters. The downstairs is where I meet clients and conduct classroom sessions.
There are two rooms upstairs. On the south side is the recording room for all of my lynda.com work. It is relatively sound quiet, and a great place to conduct my screen casting and podcast taping. On the north side is the shooting room, as shown above. Here I have a backdrop stand, reflectors, lighting, and a product shooting box for the items that I sell on TheFilmCameraShop. This is where I'll be working later this morning.
You don't need a lot of room for a functional portrait studio. Mine is only 10' x 11', yet it works great for both people and products. The hardest part is keeping it from getting too cluttered with lighting, stands, tripods, and modifiers.
Capture One Pro Tips and Techniques
I'll be using Capture One Pro to work on the images that I make this morning in the studio. You can learn more about this great app by watching Capture One Pro Essential Training now available on lynda.com. More than 5 hours of tips, tricks, and techniques. Plus many free movies using advanced techniques.
I've also created a dedicated Capture One Pro Training page on The Digital Story. You can follow all of the tips and techniques that I publish in one convenient spot.
Thinking About Making the Transition from Aperture or Lightroom? - Download my free eBook titled, Rocky Nook's Guide to Moving to Capture One Pro. I show you the steps to create a test library, then build the foundation for a smooth transition to Capture One Pro.
Want to Comment on this Post?
You can share your thoughts at the TDS Facebook page, where I'll post this story for discussion.