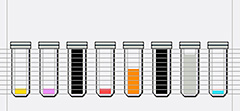 It's fairly easy to calculate how much your paper costs, but did you ever wonder what you were spending on ink? TDS sponsor Red River Paper has just published a report calculating ink usage for the Epson R2400 and the R1900 printers.
Based on their findings, it costs about 90 cents for full ink coverage on a glossy 8x10 print, and about $2.80 for a glossy 13x19. The entire report is interesting. If you're printing with either of these units, you might want to take a look.
For more information, visit Cost of Inkjet Printing.
---
Now Available! The Digital Photography Companion. The official guide for The Digital Story Virtual Camera Club.
25 handy and informative tables for quick reference.
Metadata listings for every photo in the book
Dedicated chapter on making printing easy.
Photo management software guide.
Many, many inside tips gleaned from years of experience.
Comprehensive (214 pages), yet fits easily in camera bag.
---
Technorati Tags: Derrick Story, digital photography, Printer, Technology, The Digital Story