After months of speculation by the Aperture user community, Apple today released Aperture 2.0 with a raft of new image adjustment tools, an overhauled Raw decoder, major speed improvements, and additional camera support.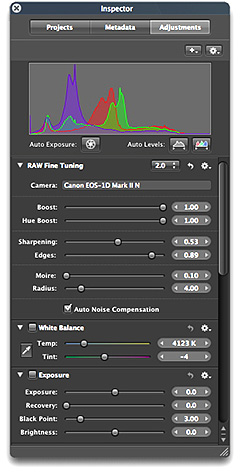 The bulk of these changes can be loosely corralled into four areas:
Interface Changes, cleaner looking (and easier to understand) UI, including the tabbed inspector, double-click behaviors, and the new All Projects, which is similar to Events in iPhoto.
Performance Improvements, including an optimized database for better searching and browsing, and Quick Previews that use available Jpegs instead of always decoding the Raw file from scratch. Photographers can use this mode for everything but image editing.
Image Decoding and Adjusting, including the Raw 2.0 decoder and a host of new editing tools. Aperture now includes Baseline DNG that enables users to work with DNGs, even if the native Raw format isn't supported by Aperture.
New Camera Support, featuring Canon G9, Canon EOS 1Ds Mark III, Nikon D300, Nikon D3, Hasselblad CF-22, Hasselblad CF-39, Leaf Aptus 75s, and the Sony Alpha DSLR-A700.
New users can now move over to Aperture for a cool $199. That's $100 less than the previous version. If you already own a copy, you can upgrade for $99. There's also a 30 day trial version available for download right now. If you like it, you can simply purchase an upgrade or full price registration number.
If you want to learn more about Aperture 2.0, visit Inside Aperture, where there's a new podcast interview with product manager Joe Schorr about the new features in 2.0, and a variety of blog posts by photographers who have been using the new app.
Technorati Tags: Aperture, digital photography, Technology, The Digital Story