This is the update that many Luminar users have been waiting for, Luminar Neptune. In addition to the features that I'll cover in a minute, this version runs faster than the previous Pluto that we've been using. And that speed is exactly what this app needed.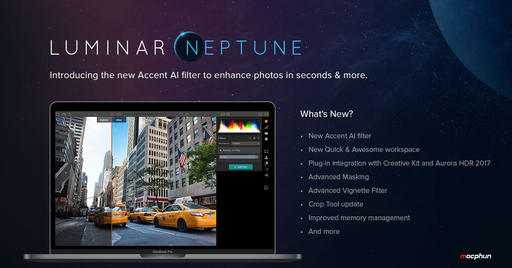 But there's plenty more as well. Take a look at this highlights list.
Accent AI Filter - Uses artificial intelligence to improve images with a single slider movement, tapping into the power of dozens of filters all at once.
Quick and Awesome workspace - A workspace consisting of the Accent AI, Saturation and Vibrance, and Clarity filters. Great for achieving fast results in a fun and easy way.
Plug-in integration with Creative Kit and Aurora HDR 2017 - Seamlessly access Macphun's other photo editing tools you own with Luminar as the host application.
Brush, Gradient, and Radial Gradient tools - Dramatically faster performance yields smoother selective editing.
Vignette filter - Addition of Vignette Styles, Place Center and Pre- and Post-Crop modes deliver even more flexibility to this popular photo finishing tool.
Memory management - Increased overall performance for large files and 5+ simultaneous open images.
User Interface changes - Extensive improvements to in-app animation and mode transitions make for a more pleasing editing experience.
Crop tool update - Added the ability to specify custom crop ratios.
Local history - Provision for reviewing separate history while in Transform, Denoise, Clone and Stamp modes helps optimize editing.
In terms of features, the Accent AI Filter is at the top of the list. The Accent AI Filter uses artificial intelligence to analyze different areas of an image based on its structure, objects, dark and light zones, colors, and other parameters. As a user moves the slider, the filter intelligently and automatically "understands" what each area on the photo is lacking, then improves it. Moving the slider can also adjust the intensity of changes, making the picture look more natural, or revealing a more dramatic look, depending on the desired effect.
Special Offer to Celebrate the Neptune Release
By clicking here between Thursday June 15th and Sunday June 25th, you will receive: Luminar + Video Training, eBooks, and Presets and Overlays... all for only $69. (Total value of $309.)
Here's what's in the offer package:
Luminar, The Supercharged photo editor for Mac that adapts to your skill level. ($69 Value)
Photography Fundamentals Video Training - In this series, you'll learn all about the essential concepts of photography from professional photographer and educator Richard Harrington. ($99 Value)
The Grand Landscape eBook by Ian Plant - In this eBook, Ian Plant shows you how to make great landscape photos in no time, helping your work to stand out from the rest. ($19 Value)
2 Luminar Preset packs - ($45 Value)
Over 500 Overlays - ($49 Value)
The Black and White Landscape & Candid Portrait eBooks from Andrew Gibson ($28 Value)
Luminar Neptune works great as a standalone app, and editing extension for Photos for macOS, and as a plugin for Lightroom.
You can share your thoughts at the TDS Facebook page, where I'll post this story for discussion.