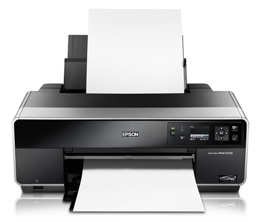 I want the R3000 to be my next photo printer. I've been using my trusty Epson R2400 since 2006, and it's still churning out great prints. But it does have a few annoyances that have been addressed by the new Stylus Photo R3000, Epson's latest generation professional 13" photo printer.
First improvement is auto switching between black cartridges for matte and glossy paper. Ink technology has also improved, and the R3000 uses "UltraChrome K3® with Vivid Magenta pigment ink, combined with Epson's innovative MicroPiezo® AMC™ print head, enables the R3000 to produce gallery-quality black-and-white output, plus vivid color prints with breathtaking blues and violets.". I'm not sure about the superlatives, but I have seen prints from the latest generation of Epson photo printers, and they do look terrific.
The R3000 holds nine 25.9 ml individual ink cartridges. So that large capacity should minimize frequent cartridge replacement. I can also easily put the R3000 on my network since its connectivity options include Hi-Speed USB 2.0, wireless 802.11n, and100 Mbit Ethernet support. And like the R2400, I should be able expect excellent black and white prints with the R3000's "advanced Black-and-White photo mode that creates neutral or toned black-and-white prints from color or monochrome images." Of all the printers I've tested, I prefer B&W from Epsons.
List price at B&H Photo for the R3000 is $849.99. Its estimated availability is March 2011. I'm seriously considering it.
---