I've been testing Photos for macOS High Sierra with many of my favorite editing extensions. And for the most part, things have moved along quite smoothly. Those who favor Luminar as an extension for Photos will be happy to read that there are no discernible hiccups. Standalone Luminar photographers only have one minor issue that I've discovered. I'll cover that in a minute.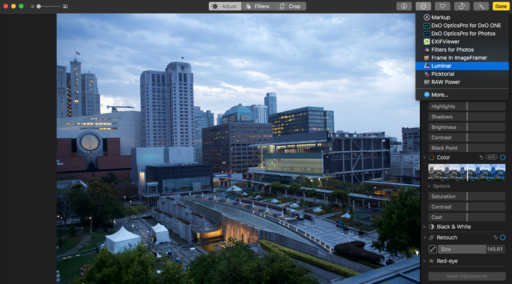 The Luminar editing extension worked well in Photos for High Sierra.
Using Luminar as an editing extension, I selected it from the new popup menu, worked on the image in Luminar, then saved it back to Photos without a hitch. I was then able to open the picture (thanks to iCloud) on another Mac running Sierra, and continued working on the photograph. Everything seemed good.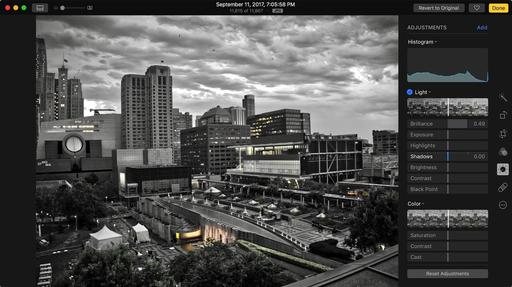 My Luminar processed image was then opened on another Mac running Sierra. Looks terrific!
Working in Luminar as a standalone app seems OK as well performance wise, but I am having an issue with the interface, seeing artifacts appear in the top toolbar area. This doesn't seem to affect functionality. But it is a visual distraction.
A few artifacts in the Luminar standalone interface in High Sierra.
I contacted Macphun, and they've already tackled the issue. We'll see a fix for it soon. Since I've only tested on my machines, I don't know if the issue will appear for you or not. But all things being equal, if you use Luminar as a standalone app, you might want to hold off a few days on that High Sierra update.
Luminar Pro Techniques Nimble Classroom, Sept. 23
If you want to master Luminar, you may be interested in my Luminar Pro Techniques Nimble Class on Saturday, Sept. 23. It's online, interactive, and you'll learn new tips and techniques. Plus, I send you the videos from the class too, so you can refer to them as often as you wish. We have a couple seats open, so sign up today.
Photos for macOS as Your Digital Darkroom
You can learn more about using Luminar as an editing extension in my lynda.com training, Photos for macOS: Advanced Editing Extensions.
And if you'd prefer to cozy up with a book, check out The Apple Photos Book for Photographers that features chapters on basic editing, advanced post processing, and editing extensions.
You can share your thoughts at the TDS Facebook page, where I'll post this story for discussion.