Someday I will pay $400 for Z-Finder Pro
because they are clear, secure, and adjustable. But today isn't that day. Budget is too tight at the moment. But I do need a bright, crisp LCD magnifier for some upcoming video projects. So for the time being, I'll do it myself.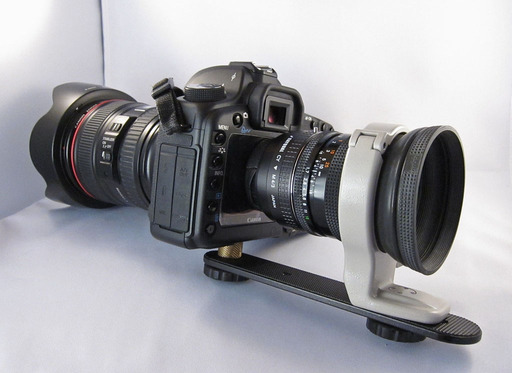 DIY LCD magnifier uses a 50mm f/1.7 Zeiss lens extended by using a Rayqual adapter. The mount is built around a Canon 70-200mm f/4 Tripod Collar.
Figuring Out the Optics
I went upstairs into my mad scientist lab and started playing with lenses and mounts. My magnifier is based on the old "reverse lens trick" to increase magnification. I chose a Zeiss 50mm f/1.7 lens because of its wide opening. To get the right viewing distance from the LCD screen, I needed to add a couple spacers. I used my Rayqual Micro 4/3 adapter because it also had a large diameter opening. It was close to the right distance, but just a tad short. So I took a real lens cap, cut a large diameter hold in it, and mounted it to the Rayqual adapter. Perfect!
I added a little gaffers tape to the open end as to not scratch the LCD on the Canon. On the other end, I screwed in a rubber lens hood to serve as my eyepiece. That way I can use the rig in bright light.
Designing the Mount
I wanted something solid that didn't look too cobbled together. It dawned on me that the tripod collar for my 70-200mm f/4 Canon lens might work. You can get these cheap, BTW -- $12.99 from Meritline. For the bottom plate, I repurposed a flash bracket that had two tripod screws. One for the camera and the other for the Canon ring mount. The only problem was, it sat a little high. So I found a brass spacer in my lighting bag that lined everything up nicely. It doesn't look too bad, does it?
Pros and Cons for this Set Up
Cons: The image is beautifully crisp, but it doesn't cover the entire LCD, only the central area. This isn't a problem when the camera is tripod mounted because I can set up the shot, then remove the magnifier. But for action shooting this would be a problem.
Pros: Aside from being very sharp, I can fine tune the focus via the lens focusing ring. Also, I used stuff I already had (no cash outlay!). And, when I want to use the 50mm on my Olympus PEN camera, I just remove the bottom lens cap (that has a hole in it) and mount the lens to my micro 4/3s camera. So I can get double use out of this set up. (Since the PEN doubles the focal length, that means I have a 100mm f/1.7 lens for my E-PL1. Tell me that isn't useful at times.)
Final Thoughts
At some point this DIY rig will drive me crazy. Hopefully by then I'll have the money to buy a real LCD magnifier. Until then, however, I'm in business.
---
If you like do it yourself gear, be sure to check out our DIY Section here on The Digital Story. Lots of great ideas there.
---