You may remember Stephanie Scheetz from our Creative Output Series. She's an artist, photographer, and frequent model for TDS Workshops. We haven't worked together for a while. But when Lowepro wanted me to make a couple short movies on some new stylish bags that are perfect for female shooters, I immediately thought of Stephanie in front of the camera.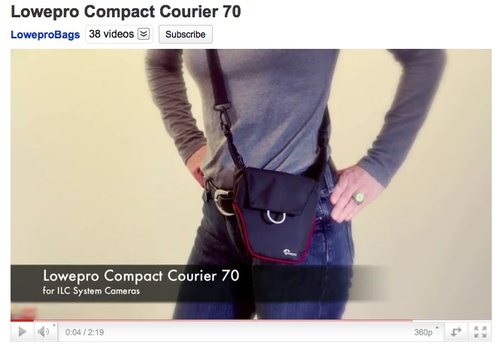 Stephanie explaining the ins and outs of the Lowepro Compact Courier 70 in this YouTube video.
For those of you who have worked with Stephanie in the past as a model, or enjoyed her Creative Output work, I thought you'd like to see her again. You can watch the movie here.
Video was captured with a Canon 60D with the 15-85mm zoom lens. Audio recorded with the Rode VideoMic Pro Compact Shotgun Microphone.
I also have a set of stills from the movie that are fun all by themselves.
---
The Digital Story on Facebook -- discussion, outstanding images from the TDS community, and inside information. Join our celebration of great photography!
---