When we're very busy (as most are this time of year), it can be difficult to adhere to your formal archiving plan. Even I struggle at times with this (it's true!). But I do have a Plan B in force that keeps me protected.
I call it the "Mini 2-Drive Approach with Color Labels." I keep one WD My Passport 750 GB portable hard drive
in my backpack and another at the studio. After I upload a shoot to an Aperture library on my MacBook Air (but before I erase the memory card), I copy that project to both external hard drives. It only takes a few minutes. Now I have my photos, plus any work I've done to them, in at least two different places.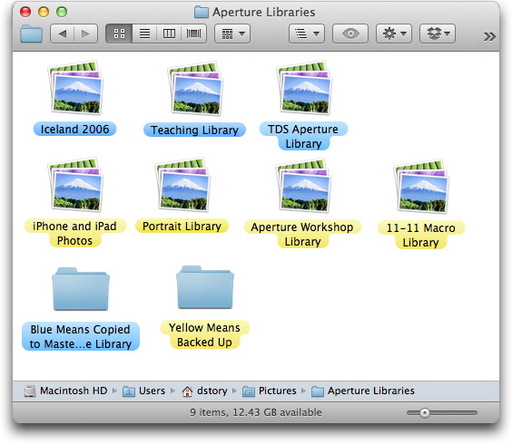 But here's the real trick: keeping track of the "workflow state" of each library. When looking in the Pictures folder on my MacBook Air, I might forget what I've done, or not done, to each library in there. Has a library been backed up on external drives? Has it been incorporated into my main Aperture library? How do I know?
I use color labels to keep track of these libraries. A yellow color label means the library has been backed up, but not incorporated into my main Aperture system. A blue color label means it's been incorporated into the main Aperture library on my desktop computer. And so I don't forget what's what, I create two empty folders titled "Blue Means Copied to Master Aperture Library" and "Yellow Means Backed Up." That way, I always immediately know the state of any given library on any device.
As for creating the master system itself, take a look at Organizing and Archiving Digital Photos for some new ideas. If you start building your plan now, you should be ready to implement it on Jan. 1, 2012. And if you want to learn more about Aperture itself, such as how to merge libraries as I do here, I have a few titles on lynda.com for that too.
More on Organizing and Archiving Digital Photos
Prepare Your Photo Archiving Plan for 2012
Organizing and Archiving Overview Movie
Choosing the Right Hard Drive for Your Photo Backup
Roundtripping from Lightroom to Photoshop
"Organizing and Archiving Your Photos" - Digital Photography Podcast 290
Quick Keywording Tips in Lightroom 3
Backing Up Aperture 3 Via My Local Network
---
The Digital Story on Facebook -- discussion, outstanding images from the TDS community, and inside information. Join our celebration of great photography!
---