The Olympus E-PL1
is a good spectator camera for sporting events. It doesn't raise eyebrows from security officials, yet it packs a serious imaging punch. Normally, I use a prime lens, such as the Zeiss 135mm f/2.8 with adapter. But when the Miami Heat came to town to play the Golden State Warriors, I opted to try the Olympus ED 14-150mm f/4.0-5.6 zoom
instead.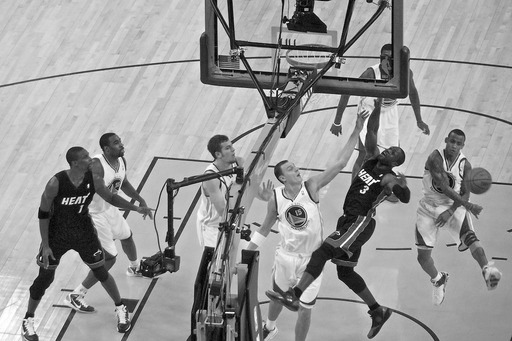 Monta Ellis swats away a Dwyane Wade shot during a recent visit to Oracle Arena. Photo by Derrick Story. Click on image for larger version.
My concern was the f/5.6 maximum aperture when zoomed out to 150mm, which is an equivalent 300mm because you double the focal length on micro four-thirds cameras. But the lens is so light and compact, making it quite tempting for these casual outings.
At ISO 1600, I was able to squeeze out a 1/250th shutter speed at f/5.6 to get shots like this during the game. The focusing was very accurate, and I got quite a few good images, even from the upper deck.
So, I'd have to say, "Yes," you can get terrific shots with the 14-150mm. You do have to deal with the slower maximum aperture, but the lens doesn't attract attention at the security gate, and it is capable of recording clean, sharp images.
---