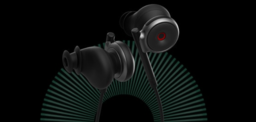 Imagine plugging a set of great sounding earbuds into your iPhone, tapping the record button, and instantly capturing crystal clear 3D audio. That's exactly what Lifelike 3D Audio earbuds by Scenes can do.
The Lifelike headset looks like regular earbuds, and it doesn't take up any more room in your camera bag. For listening purposes, they are terrific... crisp and clear. They would be a great music listening device if nothing else. But these earbuds go well beyond simply enjoying your favorite song.
When you plug them into your iPhone via the Lightning port, they are also a sophisticated recording device. Each microphone is positioned naturally outside each ear, capable of recording the world as it happens all around you.
Lifelike 3D earphones come with a Digital Box built-in best-in-class high fidelity processor, which is equipped with a MFi-certified lightning connector to integrate seamlessly with all compatible iOS devices. Use the Lightning port to your iPhone, open the video app, and then you will have a realistic, immersive 3D video. After sharing, use any headphones to replay, audiences will feel like they are there.
That's right, once the recording is captured, anyone can experience your 3D audio with their standard earbuds. No special equipment is required. Here's a movie that I made at the Santa Monica Metro Station using the Camera app on my iPhone and the Lifelike 3D earphones.
To create this movie, I recorded the scene with the iPhone set to standard video mode. I was wearing the Lifelike earphones that were plugged into my handset. I tapped the record button.
Once the footage was captured, the video with the 3D audio was automatically uploaded to my Photos for macOS app. There, I created a slideshow project where I added a few stills, transitions, and background music. That was it. High quality 3D audio with the mere tap of the record button.
You can learn all of the details about the Lifelike 3D earphones at their Indiegogo page. The early bird prices are as low as $79. They are projected to sell for $149 on the open market.
Having this high quality audio dramatically changes even the simplest videos. And to be able to do so without any extra work is just amazing.
You can share your thoughts at the TDS Facebook page, where I'll post this story for discussion.