If you've purchased the award winning Affinity Photo ($49, Mac App Store), you also received a handful of editing extensions for Photos for OS X, including my favorite, Haze Removal.
I decided to try Haze Removal with an iPhone shot, because, well, I have a lot of those in my Photos library. Here's how it looked. (Check out the difference in the sky.)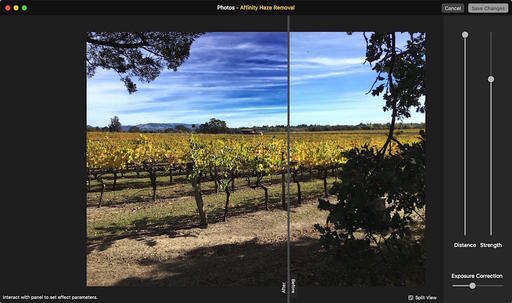 Three adjustment sliders here: Distance, Strength, and Exposure Correction. Also notice that there's a Before/After slider so you can easily check your work.
When you download or upgrade to the latest version, the extensions are automatically loaded on to the Mac. You can turn them on and off in System Preferences > Extensions > Photos. This panel is also available by clicking on More at the bottom of the Extensions popup menu in Photos.
Speaking of editing in Photos, a great shortcut is to click on a picture, then press the Return key to go straight to ending mode. Once you're there, the Extensions button is at the bottom of the list on the right side.
Affinity Photo includes some other helpful editing extensions in the bundle, but Haze Removal is my favorite of the bunch.
Master Photos for OS X
(It's More Powerful than You Think)
For hands-on tutorials, be sure to take a look at Photos for OS X Essential Training on lynda.com. I cover everything you need to know to get the most from this surprisingly powerful image management application.
More Help and Insights on Photos for OS X
Don't forget about the Photos for OS X Special Feature Section on The Digital Story. It's a roundup of tutorials, videos, and articles focused on helping you master Apple's latest photo management software. You can also find it under Photography in the top nav bar.
Want to Comment on this Post?
You can share your thoughts at the TDS Facebook page, where I'll post this story for discussion.