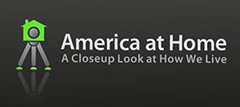 Last week I posted a heads up about Rick Smolan's America at Home Project. The site is now live and they are accepting images until Sept. 23, 2007. This is a great opportunity for you to participate in this high profile photo project.
Rick asked me to write 10 of my favorite photo tips to make available on the A@H site. They're posted now, and you can view them online or download the PDF. The 10 tips are:
Fill Flash for Outdoor Portraits
Warm Up with White Balance
Use Your Sunglasses as a Polarizer
Capture at Your Camera's Highest Resolution
Explore Your Camera's Scene Modes
Get Close then Closer
Go Low for Kids and Pets
Get in the Picture with Your Self Timer
Use Your Car Windshield Cover as a Reflector
Shower Cap Inclement Weather Protector
Just visit the America at Home site and click on Pro Photo Tips for all the details. While you're there, take a moment to learn more about the project. I hope you have a chance to submit a photo.
Technorati Tags: America at Home, digital photography, The Digital Story