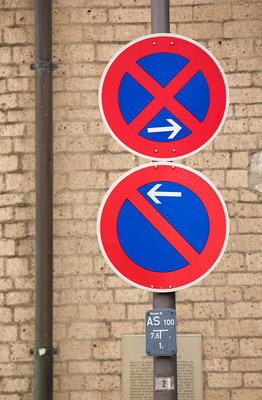 As much as I would love to put an Audi on the Autobahn, I usually resist the urge to drive in Europe. And if I did, I would need to have a clearer understanding of signs like these. At first, I had no idea what these meant.
Fortunately, I had a chance to ask my friend Oliver what they meant. If I remember correctly, the top sign with the X means no parking at all in the direction of the arrow. The lower sign with just the single slash, means you can stop there for a moment, but don't wander off. Perfect for dropping off a friend at work.
The bottom line is, when traveling, don't forget to photograph signs. They can be an interesting point of conversation, as well as informative.
---