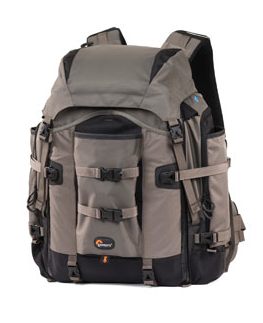 As the photography evangelist for Lowepro, I can try any bag that's available. As you've read in other reviews, I definitely have my favorites: the Fastpack 250 and Pro Runner 300 AW, to mention a couple. After months of testing, I have another favorite to add to the list: the Lowepro Pro Trekker 300 AW
backpack. Here's a short list why:
Great interior depth allowing me to place my Canon 5D Mark II on its side in the bag.

Removable belly band. This is huge for me when flying. A fully padded belly band adds much to the thickness of a bag. I don't need it for urban gigs, so being able to remove it helps for travel.

Adjustable harness. So I can get the fit just right.

Ample side pockets. Two long side pockets run the height of the bag. Very useful for personal gear.

Rugged. Everything about this bag inspires confidence. The material, design, zippers, all weather cover, even the looks.

Big enough, but not too big. The Pro Trekker 300 AW is the smallest of the series, yet it accommodates the gear I need for serious assignments. You can see both the interior and exterior specs here. And yes, it is airline compatible for most flights.

Top converts to a removable waistpack. It serves in two ways: first as a traditional backpack lid, providing extra security and weather protection; and as a removable/wearable waistpack with a mesh-covered backpad, two roomy pockets and a key clip.

Loops, handles, and straps. Three handles for grabbing, straps everywhere to secure tripods, monopods, ski poles, etc. And even compression straps on the bottom for additional outdoor gear. Whatever you have, you can probably lash it to this pack.

Built in hydration. Yes, the Pro Trekker is hydration ready.
The next stop for me and the Pro Trekker 300 AW is Cologne, Germany for my assignment at Photokina. I'll be shooting stills, recording video, and interviewing photographers, including Greg Lowe. My bag is packed. I'm ready to go.
The Lowepro Pro Trekker 300 AW
is available on Amazon for $240.
---