This is The Digital Story Podcast #507, Nov. 24, 2015. Today's theme is "When Manual is Actually Easier." I'm Derrick Story.
Opening Monologue
During the holidays, should you bring your camera to the table? This is a discussion we had the other night, at of all places, the dinner table.
My initial feeling is, that if you demonstrate some common sense and respect for others, then it's OK to bring your smartphone or digital camera to the dinner table during the holidays. Other folks believe that we should stay in the moment and leave our digital devices elsewhere.
I can see both sides to the story. How do you feel about it? Post your comment on the TheDigitalStory Facebook page, and I'll read one from each side next week.
When Manual is Actually Easier
Open with the anecdote with a booth visitor in Texas.
My default settings, before I turn off the camera are Program Exposure Mode, Auto ISO, and Auto White Balance. I do that because if a great photo op presents itself, I want to be able to capture the image quickly, and have a reasonable file to work with.
But I do switch to Manual Exposure and Manual Flash regularly. Not because that's how real photographers shoot, but because it's actually easier sometimes.
My favorite scenario for this approach is for portraits when I want to balance ambient lighting with the flash. Here's how I do it. First I use Manual Exposure for the ambient lighting. I make sure the shutter speed stays below flash sync. Then I manually adjust the flash output for the subject. Now I can enjoy wildly consistent exposures knowing that a false TTL reading won't fool the camera. More on this during today's feature story.
The Screening Room
This week's Screening Room selection is Using Wacom Tablets with Photoshop with Kevin Stohlmeyer. In this course, Adobe Certified Instructor Kevin Stohlmeyer shows how to optimize your Wacom tablet for use with Photoshop. He reviews each component of the tablet and Grip Pen and shows how to adjust preferences and customize your tablet to work best with Photoshop. Plus, he helps you experiment with Photoshop's default brushes, natural tips brushes, erodible brushes, and Mixer Brush.
In the News
Alien Skin Exposure X 'nondestructive' photo editor to launch by year's end - DPReview - "Exposure X won't use a catalog file in an effort to keep things simple and fast. For this reason, the application doesn't require photos to be imported, instead it uses any folder the user selects to access photos and save image edits. In a new post published today, the company detailed how new brushing and layers features will work. The software will be available as a standalone application or as a plug-in. Additionally, Exposure X supports file management, including renaming and moving images, and offers organization tools like star ratings, flags, and colors." No price yet.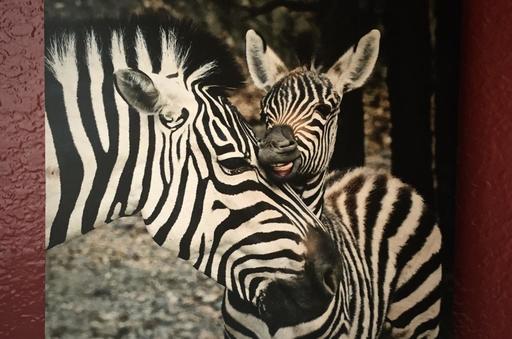 Wood Prints
When Leah was at work the other day, and I was at home, I got this text from her: "O my gosh, is hat really a photo somehow miraculously pressed onto wood? It's gorgeous!" I replied, "Yes, indeed. It's a Wood Print by inkdot. And I think it's really cool too.
They are 5/8" thick and printed on Baltic Birch. They are archival, moisture, and UV resistant. They take two days for printing, then of course ship time. Sizes range from 6" x 6" to 24" x 36". The 12"x12" print I have of mother and daughter zebras runs $58.
Inkdot makes a variety of cool stuff, and you'll be hearing more about that on future shows. But for the holidays, you definitely should consider the wood prints. Learn more at www.inkdot.com.
Essence of Photography Book Winners
Congratulations to Linda Sullivan and Harold Mancusi-Ungaro for being randomly selected to receive The Essence of Photography by Bruce Barnbaum. They were selected from the subscriber list of The Nimbleosity Report, a twice a month newsletter with inside scoops and discounted deals. Adorama is coming onboard and will be offering a special item at a super discount for each edition.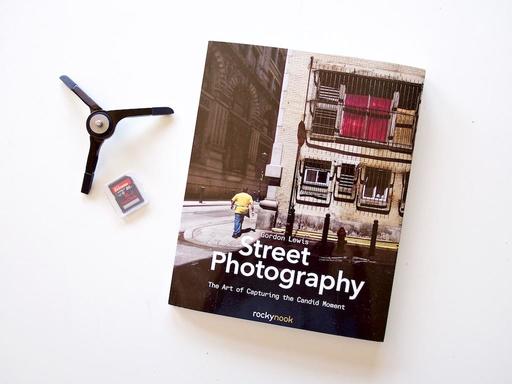 This week's giveaway is two copies of Street Photography - The Art of Capturing the Candid Moment by Gordon Lewis. Everyone on the subscriber kist for The Nimbleosity Report is eligible. If you haven't signed up, the link is in the show notes. The next drawing is Monday, Nov. 30.
Member Quote of the Week
Intelligent comments culled from The Digital Story Facebook page.
In regard to last week's podcast, Top 10 Gifts for Photographers, Fred Brundick comments about The Tile: "The Tile wouldn't help me because I'm always misplacing my iPhone ;-) I've used Find My iPhone a few times when I couldn't find my phone in my condo."
Post your thoughts on our Facebook page. Believe me, I read them.
Eight Printing Tips for Greeting Cards
Here are Eight Card Printing Tips complements of Red River Paper. The first one is "Create a Custom Paper Size in your Printer Properties" and they show you how. Then go on from there. Check out all eight and make some wonderful gifts this holiday season.
Found in the Bottom of the Bag
Registration is open for The 2016 Street Photography Workshop in San Francisco. And I've posted the full preliminary itinerary on the Workshops page. And if you plan on ordering through B&H Photo or Amazon, please stop by the TDS site first, click on their respective ad tile, then place your order. That extra step helps support the site.
See you next week!
More Ways to Participate
Want to share photos and talk with other members in our virtual camera club? Check out our Flickr Public Group. And from those images, I choose the TDS Member Photo of the Day.
Podcast Sponsors
lynda.com - Learn lighting, portraiture, Photoshop skills, and more from expert-taught videos at lynda.com/thedigitalstory.
Red River Paper -- Keep up with the world of inkjet printing, and win free paper, by liking Red River Paper on Facebook.
inkdot Innovative printing output and accessories for the creative photographer. Visit www.inkdot.com today.
The Nimbleosity Report
Do you want to keep up with the best content from The Digital Story and The Nimble Photographer? Sign up for The Nimbleosity Report, and receive highlights twice-a-month in a single page newsletter. Be a part of our community!
Want to Comment on this Post?
You can share your thoughts at the TDS Facebook page, where I'll post this story for discussion.