This is The Digital Story Podcast #915, Oct. 3, 2023. Today's theme is "How to Go Carry-On Only for a 10-Day Photo Trip." I'm Derrick Story.
Opening Monologue
I'm on my way to Sedona, AZ for our upcoming photography workshop. We will be working in a variety of beautiful settings, and I plan on coming home with plenty of pictures. And since a lot of my gear has to be packed in my suitcase, I'm going super-nimble and will be carrying on both of my bags. How could such a thing happen for a 10-day photo trip? Find out on today's TDS photography podcast. I hope you enjoy the show.
Digital Photography Podcast 915
Tune-In Via Your Favorite Podcast App!

---

Apple Podcasts -- Spotify Podcasts -- Stitcher

Podbean Podcasts -- Podbay FM -- Tune In
How to Go Carry-On Only for a 10-Day Photo Trip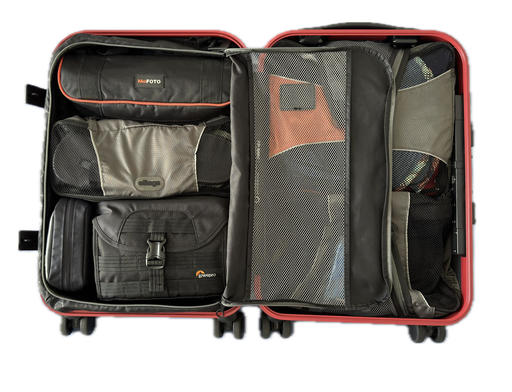 I have had such bad luck with checked bags that I've changed my approach to flying. I'd rather pay a bit more for a comfortable seat that allows my to board early and stash my suitcase in the overhead compartment. I hang on to my carry-on shoulder bag at my seat where I will have a laptop, iPad, and AirPods for the flight.
My suitcase is the amazing Solgaard Carry On Suitcase that easily fits in the overhead compartment. I also use eBag Packing Cubes which keep everything organized and provides extra compression for my clothes. But there's so much more that fits in my suitcase for this trip.
MeFoto Backpacker Tripod for our night photography, and Manfrotto monopod for hiking.

Lowepro Pro Tactic compact camera case.

OM Digital OM-1 mirrorless camera with lenses; Fujifilm X100V, iPhone 15 Pro Max.

Cables, power bricks, audio recorder, filters, and various accessories.

Two pairs of Clothing Arts Pick-Pocket Proof® Adventure Travel Shorts, one pair of Eddie Bauer long travel pants, T-shirts, underwear, socks, long sleeve shirt, foldable rain shell, and down jacket.

Laundry detergent, spot remover, portable first aid kit, flashlight, iPhone stand, hat, sunglasses, and sunblock.
In my shoulder bag that complements the carry-on suitcase, I have my MacBook Pro 14.2" laptop, iPad mini, AirPods, more lenses, cable kit, and water bottle.
In the podcast, I explain how this all works together.
4 Productive Mindsets When Traveling for Photography
You can read the entire article on Fstoppers.com
For a lot of photographers, the act of traveling is a double-edged sword. We travel to be able to see the world and draw as much inspiration as we can from everything we see and experience. At the same time, the act of traveling often requires pushing out of our comfort zones and leaving behind a lot of the things that allow us to operate with fewer worries and limitations.
Traveling often involves the unpredictability of new surroundings, the randomness of photographic subjects, and the requirements (and limitations) of our gear. Travel is a huge equalizer that requires a lot of planning and a lot of energy to make sure that the experience is both productive and refreshing at the same time. Here are four things to keep in mind that might help you make the most out of your travel experiences no matter where you are going.
Here are four key points.
Don't Let Unfavorable Weather Stop You
Give Yourself Some Wiggle Room
Don't Forget To Be a Tourist
Connect With People
How Do iPhone 15 Pro RAW Files Stack Up to ILC Cameras?
I discuss what my findings are after testing my iPhone 15 Pro Max.
You can view and download the full resolution image here.
Virtual Camera Club News
The Nimble Photographer Newsletter is now publishing every Thursday. Readers will enjoy a variety of content spanning from short photo essays, to commentary on weekly events, to reviews of the latest and coolest photo gear.
TDS Workshops! - You can sign up for available workshops by visiting The Nimble Photographer. Inner Circle Members receive a 10-percent discount on all events.
Inner Circle Members: A big thanks to those who support our podcast and our efforts! We are having a blast at our new Inner Circle hangout, the private group I've set up at DerrickStoryOnline. We'd love it if you join us. You can become an Inner Circle Member by signing up at our Patreon site. You will automatically be added to the new hangout.
Great Photography Articles on Live View - If you check out our publication and appreciate what you see, be sure to follow us and clap for those authors. You can find us at medium.com/live-view.
If you're interested in writing for Live View, drop me a line at dstory@gmail.com.
The New Donation Kit for Carefree Shipping of Found Film Cameras - If you've discovered a film camera that's no longer being used, our new Donation Kit makes it easy to pack and ship. Just visit the Contact Form on thenimblephotographer.com, click the box next to Donating a Film Camera, and let me know what you have. In your note, be sure to include your shipping address.
Affiliate Links - The links to some products in this podcast contain an affiliate code that credits The Digital Story for any purchases made from B&H Photo and Amazon via that click-through. Depending on the purchase, we may receive some financial compensation.
Red River Paper - And finally, be sure to visit our friends at Red River Paper for all of your inkjet supply needs.
See you next week!
You can share your thoughts at the TDS Facebook page, where I'll post this story for discussion.