You can tell that Apple worked hard to bring iPhoto to the iPad. It's designed from the ground up, and is a joy to use. To help you get started, here are a few tips.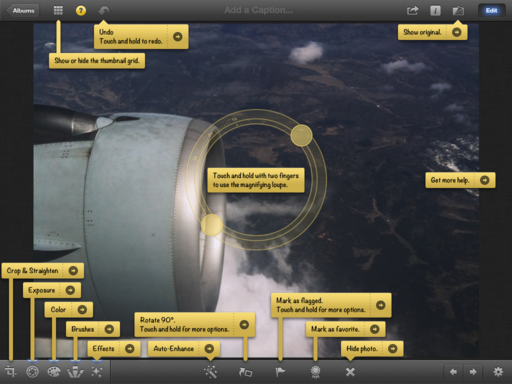 Use the Help Button
We often shy away from Help because it takes us out of the app and usually down a rabbit hole. But the Help for iPhoto is much better. On any given screen, tap the Question Mark in the upper left corner, and you'll get labels for all of the tools on that screen. Use this frequently in the beginning, and you'll get comfortable with the app much faster.
Get a Stylus
I love that you don't need a stylus to work on an iPad. But iPhoto is one of those apps where you'll enjoy having one. Working with the brushes is a great example. You can lighten, darken, sharpen, and do just about anything else with great precision. Using a stylus is not only more accurate, it's fun. And you can get them for just a few bucks.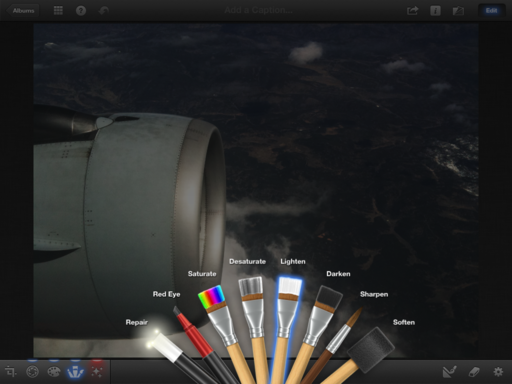 Load it on Your iPhone
I don't think I've heard the phrase, "Beam that to me" since the Palm Pilot days. But it's back. And if you have iPhoto loaded on another iOS device, you can "beam" photos back and forth to their libraries.
I prefer to work on images on the iPad where I have more real estate, but then I do want some of them on my iPhone 4S for immediate sharing with others, since I always have my iPhone in my pocket.
To beam, just go to the Share menu and choose Beam.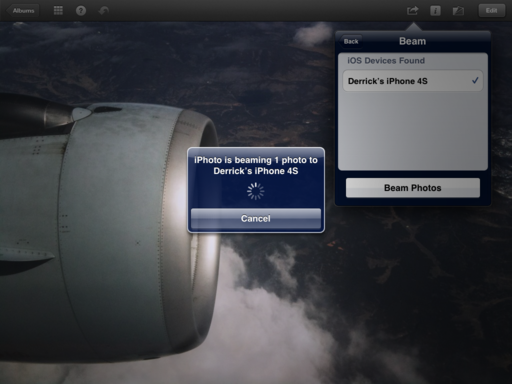 Save to Camera Roll
Once you've edited a photo and decide you really like it, save it to your Camera Roll (once again using the Share menu). Your Camera Roll is the image database for your iPad that allows other applications to access those pictures. If you save important shots to Camera Roll right away, they will be available to you in Keynote, Pages, etc. You'll be glad you did this when you're jamming to finish a presentation.
Create a Journal
This is an innovative way to share a collection of images with others. Instead of sending an email attachment with a dozen photos, create and publish a journal.
I began by flagging a handful of images that will be part of my journal. Then go to the Share menu, and choose Journal. One of the options will be your Flagged photos. You can then choose a design and add all sorts of goodies, such as quotes, map, etc.
Once you've finished, go to Share and choose iCloud. iPhoto will store your journal there, and give you the options to email mail it (Tell a Friend) or view it in Safari. The recipient gets a beautiful overview page, and then can enjoy each photo individually.
Here's a basic Sample Journal that you can view.
Final Thoughts
iPhoto for iPad works great on iPad 2, and it should be even more beautiful on iPad 3. Make sure you upgrade to iOS 5.1 before purchasing. It's available in the App Store for $4.99.
---
The Digital Story on Facebook -- discussion, outstanding images from the TDS community, and inside information. Join our celebration of great photography!
---