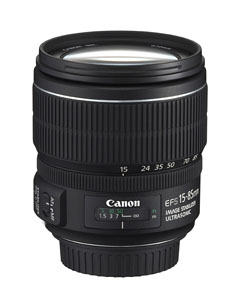 When Canon unveiled the Canon 7D and three new lenses, understandably the DSLR got most of the attention. But for those of us who have existing Canon APS-sensor bodies, the new lenses, and especially the 15-85mm zoom, is a notable announcement. I think this is potentially the perfect high end all purpose glass for current Rebel owners.
At the top of the spec list is Canon's new hybrid image stabilization that compensates for both angle camera shake and shift camera shake. Canon states that its IS is effective up to four stops. By having such effective stabilization, Canon was able to keep the lens compact, sacrificing a bit on maximum aperture (3.5 to 5.6).
Next is the wonderful zooming range, 24-136mm, that allows shooters to cover most assignments without ever changing the lens. It's the perfect travel zoom for sure, and for many photographers it could be their main glass.
When the EF-S 15-85mm is released later this month, it will probably sell for around $800 US. That's the downside for Rebel owners. Many will feel it's hard to justify a standard zoom that costs as much, or more, than the camera itself. The justification is that if you can afford it, it's a lens you will have for a long time and most likely use on many cameras. I use the Canon 24-105mm f/4 as the standard lens on my 5D Mark II, and I can see me using the 15-85mm in a similar role on my Rebel T1i and other APS sensor bodies.
Oh, and did I mention... the Canon 7D looks great!
PS: In case you missed it, I recently reviewed another terrific accessory for Canon Rebel owners, the Canon Speedlite 270 EX.
---
-
---