I've just finished testing Aurora HDR Pro 1.2.2 standalone app and Editing Extension for Photos for OS X, and this version includes some terrific enhancements plus additional RAW compatibility.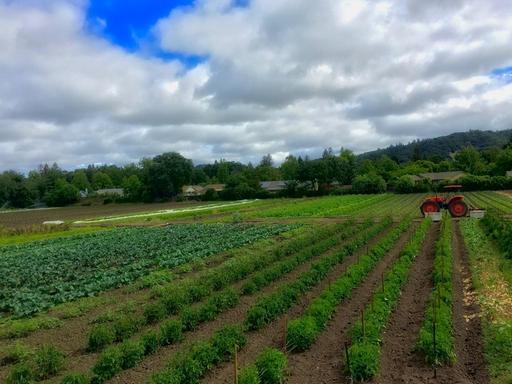 "Red Tractor" - Captured with an iPhone 6S and processed in Photos for OS X using its editing tools and Aurora HDR Pro Editing Extension. Image by Derrick Story.
One of my favorite improvements is the ability to sync Favorite presets between Aurora HDR Pro standalone and the Aurora HDR Pro Editing Extension. Very nice. The RAW compatibility for new cameras includes:
Canon 80D, 1300D, 1DX MkII
Leica M (Typ 262)
Nikon D5
Olympus Pen F, SH-3
Panasonic DMC-GX80/85, DMC-TZ80/81/85/ZS60, DMC-TZ100/101/ZS100
Samsung Galaxy S7 (SM-G935F)
Sony ILCA-68, ILCE-6300, RX1R II, RX10 III
DxO ONE Digital Camera
Fujifilm X-Pro2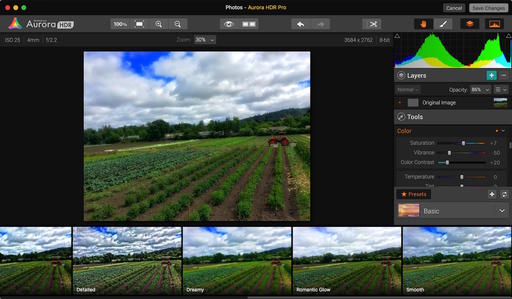 To complement all of the powerful slider tools, there are dozens of presets to help you get your image on the right track.
Aurora HDR Pro is a wonderful Editing Extension for Photos for OS X. In addition to being a robust HDR processor, the software includes many advanced sliders such as Top & Bottom Lighting, Tone Curve, Layer Control, and Denoise. Plus, it features seven categories of presets, which is a great way to figure out the starting point for your editing.
You can get $10 Off Aurora HDR Pro plus receive $90 worth of bonuses here.
Master Photos for OS X
(It's More Powerful than You Think)
For hands-on tutorials, be sure to take a look at Photos for OS X Essential Training on lynda.com. I cover everything you need to know to get the most from this surprisingly powerful image management application.
More Help and Insights on Photos for OS X
Don't forget about the Photos for OS X Special Feature Section on The Digital Story. It's a roundup of tutorials, videos, and articles focused on helping you master Apple's latest photo management software. You can also find it under Photography in the top nav bar.
Want to Comment on this Post?
You can share your thoughts at the TDS Facebook page, where I'll post this story for discussion.