The new Olympus PEN E-PM1
is a camera that I've been toting for the last couple months with good results. DP Review has now put it through a full test. Their conclusion is similar to mine: you get the same image quality as with flagship E-P3, but for a lot less money and only a few less features. They gave the PEN Mini a Silver Award, which I also agree with.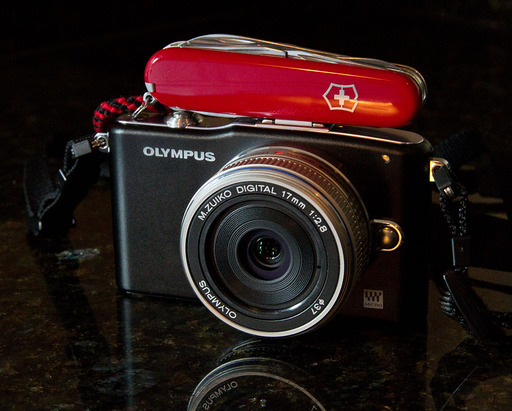 Olympus PEN Mini, 17mm f/2.8 lens, with Swiss Army Knife
Related, my satisfaction with the PEN Mini has helped me fight off the urge to invest in the Fujifilm X10 that's now available in the States for $600. It looks like a great camera with positive initial reviews. But the PEN Mini has interchangeable lenses, interchangeable viewfinders, a much larger image sensor, and... it costs less -- $450 with kit lens (PEN Mini)
vs $600 with fixed mount lens (Fuji X10).
Ah, so many great cameras... so few credit cards.
---
Find great deals at the TDS Photography Store on Amazon.
---